Make Homemade Cards
Looking for inspiration to make homemade cards for a special occasion? We have lots of that! And today, DT Member Dottie will show you how to make a quick homemade summer card that's perfect to spread the summer fun around!
---
Summer Fun Card
---
Hi! My Name is Dottie and I'm so glad to know that you want to make homemade cards! Today, I am going to show you how to create a summer card. Please feel free to use whatever products you have on hand and let your creativity flow! Also make whatever changes you might like. The Important thing is that you have fun crafting because that is what it is all about!
Products I used to create this card:

---
---
How I made this card:

Gather all your supplies for the card.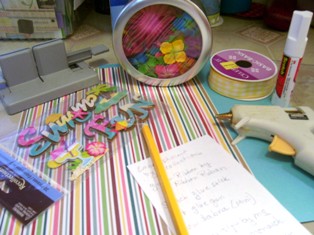 I used the teal card stock for the base of the card cutting it to 6" x 4 ½" when folded.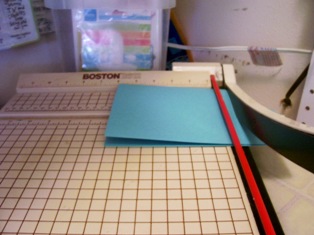 I then cut my patterned paper to a size slightly smaller than the base of my card for a bordered look and layered it.

I added the ribbon and bow to the top of the card. I had some flower embellishments lying around so I decided to use one and then hot glued the flower to the bow.
Here's a good tip. If you run out of ideas for card designs, simply use a themed set of embellishments and just add those to your card! For example, I used a Summer Fun set of pop-ups from Recollections for my card and simply adhered the pieces however I wanted them. Easy, fun and a great time-saver!
You can add whatever other embellishments you might like. Don't worry too much about the design and just focus on making your crafting time a lot of fun! :) Here's our quick and easy card again.
Thanks for taking the time to make homemade cards with me and I hope you enjoyed our fun tutorial! You can also check out what the other ladies in the Design Team have created by visiting this page. Happy crafting!
More Ideas to Make Homemade Cards
Let's Make Greeting Cards Homepage