FREE Digital Scrapbook
Paper Pack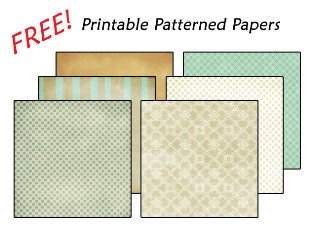 A great way to jump start your new hobby of making cards would be to download digital scrapbook paper packs. I just love free digital scrapbook downloads! No, I'm not much of a scrapbooker but all the elements can be used to make cards. And because they're downloadable, that means I don't need to get out of the house and I can get them right here and right now! Yeah, I'm a patient person. haha
So anyway, wanna try a paper pack? We've got one right here and yep it's ABSOLUTELY FREE!
Simply fill out the form below and you will receive a download link to a digital scrapbook paper pack consisting of 6 gorgeous patterned papers. Now, these are high-quality, printable papers so file size is probably around 8MB and downloading may take a bit of time. But I promise you, it will be worth the wait. :)
PLUS!! Get a FREE subscription to Let's Make Greeting Cards' Newsletter which is packed with card ideas, updates and freebies!
VERY IMPORTANT
The papers are all in high-quality JPEG format and are packed together in a ZIP file so you'll only have to download once. You will need a program like Winzip to open it. If you don't have Winzip installed, you can download it here for free.
After entering your email address below, you will receive an email with a confirmation link. We do this in order to make sure that your email address is indeed yours and it was not submitted by someone else without your knowledge. Upon confirmation, you will receive the download link so you can start enjoying your digital papers. :)
Having trouble with the file?
Please contact me through this form and I'll see what I can do to help. :)
Yes, please sign me up to receive the digi papers
and your free newsletter.