Learn How to Make Fabric Flowers
Want to learn how to make fabric flowers? I'm right with ya! If you've been into crafting for some time, I'm sure you've realized by now that flowers are one of the few embellishments we can't live without! One problem though. Okay, two actually. The first of course is that the best ones don't really come cheap. The second is that, well, you can never have too many! Haha



Experimenting with Fabric Flowers
So I decided to experiment on some fabrics and make fabric flowers myself. I realized that one of the great things about learning how to make fabric flowers apart from it being so fun is that you can actually make them in any color of your choice so it will go well with the color scheme or theme you used for your card or any project you have. Fabric flowers usually make use of fabric scraps. You can use old clothing or scraps from a previous project you did. Since I couldn't find anything from my wardrobe and I haven't done any project that involved fabrics before, I went to my local fabrics store instead and bought fabric scraps. I also asked a seamstress friend for fabric scraps from her previous orders. And that's how I saved myself a few bucks!
A Bit of Sewing
I don't have a sewing machine so most of my tutorials for making fabric flowers will involve a bit of hand-stitching here and there. Don't worry if you're not on speaking terms with Mr. Needle! We won't be doing any of the difficult stuff, I promise. I'm not really best friends with Mr. Needle, either.
FREE Newsletter!
I'm going to add more variations of fabric flowers soon so please visit my website regularly to see if I've added another tutorial. Or better yet, I can inform you of updates myself! You can simply subscribe to my free newsletter and leave the rest to me. *wink*
Contact Me
If you have any questions on how to make fabric flowers or about my other projects, or if you simply want to say hi, please leave me a message through my contact form . I love hearing from fellow crafties and I always write back! Unless I'm on travel because of my day job, you'll be hearing from me in the next 24 hours.
Meanwhile, enjoy learning how to make fabric flowers!


We'll be adding more soon so I hope you'll drop by again!
Thank you for visiting my little corner in cyberspace. If you're done with this tutorial on how to make fabric flowers, do checkout my other pages, you'll find lots of ideas and information in every nook and cranny of this little website.
We even have card ideas shared by fellow crafties. You can see their creations and share your cards too! Learn how by clicking here. Oh and don't forget to leave them some love!
Below are some links to other pages on this site that you might want to check out.
Happy crafting!
Making birthday cards is a whole lot of fun! And it can be really easy too. Browse our collection of handmade birthday cards for some easy birthday card ideas.

FREE Online Printable Christmas Cards
Cutting and pasting not your cup of tea? Pressed for time to make Christmas cards? You're in luck because we have free printable Christmas cards too. Download one or download them all! Hope you have a blast! :)


Check out our page on Christmas Card Ideas! We take pride in the fact that all our cards are beginner-friendly and very doable so you should have no problem. ;)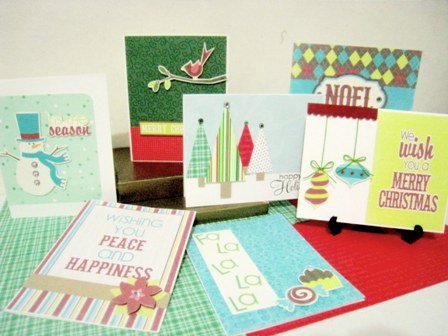 Go back from How to Make Fabric Flowers
to Let's Make Greeting Cards Homepage