Easy to Make Christmas Card
Accordion Christmas Tree Surprise
This easy to make Christmas card idea comes with a little twist. What's simple on the outside has a little surprise on the inside!



Looking for handmade Christmas card ideas that are both easy to do and unique? This easy to make Christmas card is just what you're looking for! It's simple enough that even beginners can do it but it also comes with a nice twist, an accrodion Christmas tree that's sure to brighten your loved one's day!


Materials
- 4" x 11" cardstock
- Christmas-themed patterned papers
- 6" ribbon
- a Christmas sentiment or image cut out
- double-sided tape
- puncher, scissors or paper trimmer, ruler

Instructions
Step 1: Fold your cardstock at the center to form a 4" x 5.5" card.
Step 2: Cut strips out of your Christmas-themed papers in dimensions of 0.5" x 11", 1" x 11", 1.5" x 11" and 2" x 11". A bit confused? I would be too. :) So just refer to the photo below.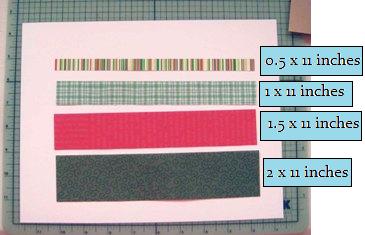 Step 3: Let's start folding to form our accordion Christmas tree! I'm not really a big fan of scoring so I cheated a bit. haha :) Simply fold your strip into half and repeat the process three more times until you're left with just around half an inch in width. No, we're not doing the accordion fold yet. We're only setting the "guides" so we'll know where to fold.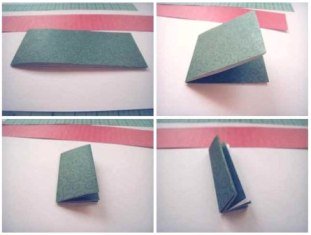 Step 4: Once the "guides" are set in place, unfold and spread the strip out.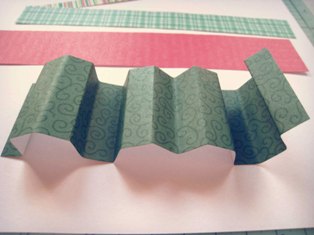 Step 5: Now for the fun stuff! Let's do the accordion fold! :) Simply follow the "guides" you've set in the last 2 steps.
Step 6: Repeat Steps 2 through 5 with the rest of your paper strips.
Step 8: Adhere your accordion folds to your card using double-sided tape, longest strip at the bottom. Adhere all strips to one side of the card first, then the other.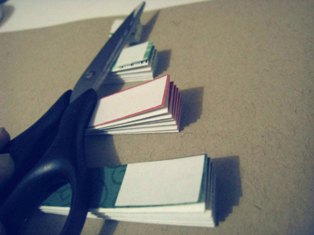 Step 9: Ta-da!! Lovely Christmas tree right?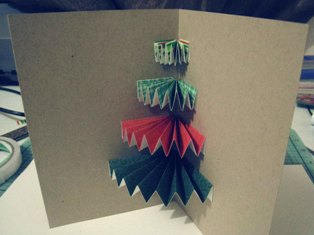 Step 10: Since your accordion Christmas tree won't keep your card closed, we need a ribbon to do the job. Punch two holes on the edge of your card.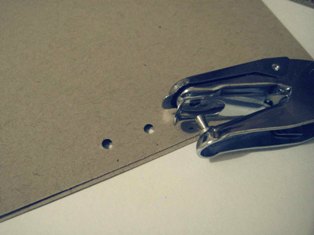 Step 11: Insert your ribbon and make a nice, pretty bow to keep this easy to make Christmas card closed. :)

Hope you enjoyed this tutorial! I agree it was quite a long one but it's only because I wanted to make sure I made everything nice and clear. Still, if there's anything you found confusing, please let me know and I'll help you out. :)
Contact Me
If you have any questions about this card or any of my other projects, or if you simply want to say hello (I love hellos!), please contact me through this form. I'll get back to you as soon as I can which is usually within 24 hours unless I'm out of town..
Free Newsletter
We'll be adding more ideas and printables regularly so if you haven't already, please subscribe to our free newsletter so we can let you in on what's new.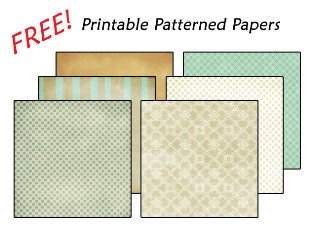 As a thank you for your support, we'll be sending you a download link to a gorgeous digital scrapbook paper pack that you can use for your cards and crafting projects! :)

If you're done with this easy to make Christmas card, you might want to go back and choose another Christmas card tutorial.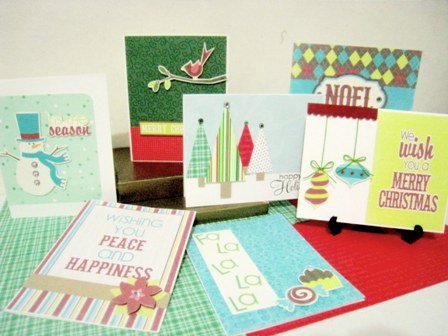 We have other pages too! :)
Got your card but can't figure out what to say? We've got a collection of Christmas card sayings you can check out. One is sure to be perfect for your card. :)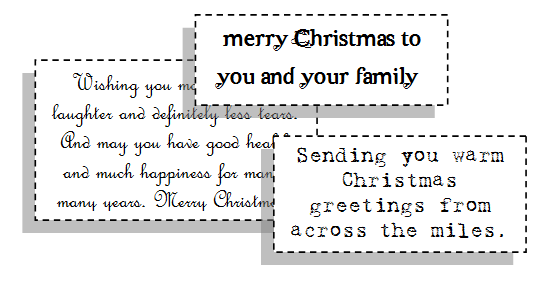 FREE Online Printable Christmas Cards
Cutting and pasting not your cup of tea? Pressed for time to make Christmas cards? You're in luck because we have free printable Christmas cards too. Download one or download them all! Hope you have a blast! :)


FREE Online Printable Christmas Labels
Printable Christmas Labels perfect for your Christmas card envelopes and crafts. Download these pretty Christmas labels today!


Go back from this easy to make Christmas card
to Let's Make Greeting Cards Homepage