Christmas Card Sayings
Here you'll find a collection of unique Christmas Card Sayings to give your cards a nice, finishing touch. :)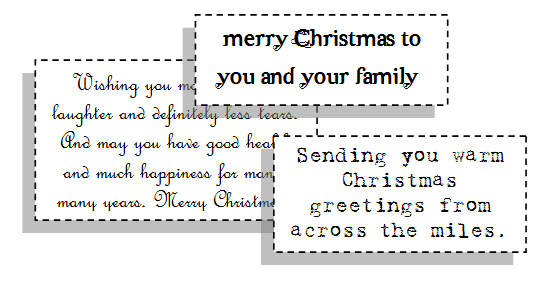 Got your Christmas card and now looking for the perfect Christmas card greeting? Well, you've come to the right place because this site has that too!
Go through the following Christmas card sayings which I personally came up with (racked my brains real hard!) and choose the one that's perfect for your loved one. I'll be adding more soon so be sure to check back from time to time!
Have fun!

*Christmas Card Sayings*
Wishing you happiness and love this season, in the coming year and always. Merry Christmas to you and your family!
~ ~ ~ ~ ~
It's the perfect time to say thank you for everything you are and for all the things you do. I know I haven't said it much but I hope you know I love you. Merry Christmas!
~ ~ ~ ~ ~
Here's to wishing for a wonderful year ahead of us! May we have more shoes and bags than we'd know what to do with. May we finally stick to a diet plan long enough to see its effects on our waistlines. And most importantly, may we finally find real men and not the jerks we always manage to come across. Merry Christmas to my girls!
~ ~ ~ ~ ~
Wishing you more love and laughter, and definitely less tears. And may you have good health and much happiness for many, many years. Merry Christmas!
~ ~ ~ ~ ~
'Tis the Season of Giving but I've got nothing to give. None but my heart that's been yours from the start. Merry Christmas!
~ ~ ~ ~ ~
Sending you warm Christmas greetings from across the miles and wishing you were here to share this Christmas with us. Merry Christmas and we'll see you soon!
*More Christmas Card Sayings*
~ ~ ~ ~ ~
So they say that Christmas is the perfect time to give. Well? Where's my gift??
~ ~ ~ ~ ~
Christmas trees and Christmas lights. Songs like Deck the Halls and Holy Night. Everything around me is merry but see, I can't help but sigh and remember last Christmas when you were with me. I miss you.
~ ~ ~ ~ ~
We've lost touch and I've been wondering how you've been. I hope you're having a wonderful Christmas and that we can have coffee and chat for hours again real soon. Happy holidays!
~ ~ ~ ~ ~
It's been a wonderful year with you and now that it's coming to a close, I want to grab the chance to say you'll always have a friend in me. Merry Christmas!
~ ~ ~ ~ ~
Out with the old and in with the new! But there's an exception with you! I won't let you go because you're perfect for me, doesn't matter if you belong in the "old" category. Happy holidays!

Got a Christmas card saying that you'd like to share? Simply drop me a note and I'll add it to the list! :)
Here are some of our other pages that you might find interesting..
FREE Online Printable Christmas Cards


On a roll? Check out our page for Christmas Card Ideas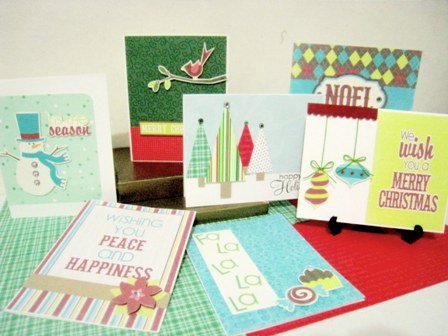 Go back from Christmas Card Sayings
to Let's Make Greeting Cards Homepage