Gorgeous Handmade Wedding Cards

Handmade wedding cards are perfect gifts for couples who will soon be making that important decision to spend the rest of their lives together. Sooo romantic, right? :) We've asked DT Member Dottie to teach you how to make a simple yet elegant homemade wedding card today so you can make your friend's big day even more special! Enjoy!

---
For the Bride and Groom

---
Hi My name is Dottie and today I am going to show you one of my homemade wedding cards and teach you how to make one yourself!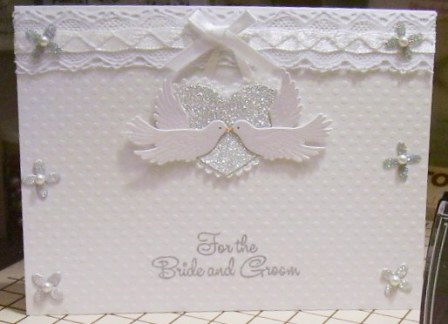 Products for this project:
White paper open stock (Bazzill Basics Paper)

White lacey satin ribbon

(By Celebrate it)

Jolee's Boutique (Love birds and silver flowers with pears)

Glue stick

Rubber stamp " FOR THE BRIDE & GROOM"

Encore! Ultimate Ink Pad (Silver)

Spellbinders (for embossing)
Assembly:
Prepare your materials and gather your supplies for your wedding card.

Remember, you can always use whatever you have on hand. You don't need to use the exact supplies that I did.

Take your white card stock and cut it to size 6 x 4 ½ inches. Run it through your Spellbinders machine (if you have one) for some embossed effects. If you don't have Spellbinders, that's fine. You can just use the cardstock as is. This will form you card base. Score and fold your card stock at the middle.



Take out your white ribbon or lace and run it along the top of your card. Glue stick will do the job of holding it in place perfectly. Alternatively, you can also you quick dry glue. Double-sided tape will just not work since our ribbon is made of fabric material. Add a bow to the middle.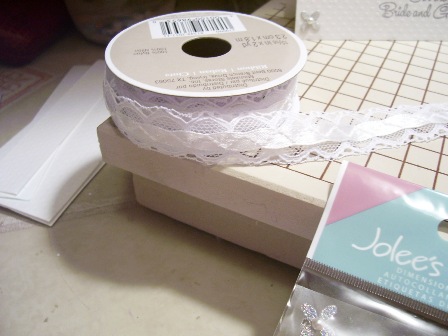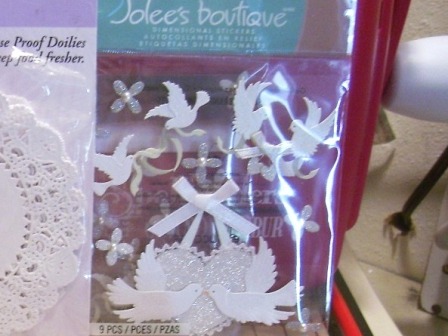 Lastly, using whatever wedding-themed stamp you have and some silver ink, stamp a sentiment at the bottom of your card as a finishing touch.
Well that's it! This was a very easy card to create and you can even finish this in just 15 minutes or so. Here's one of my pretty handmade wedding cards again!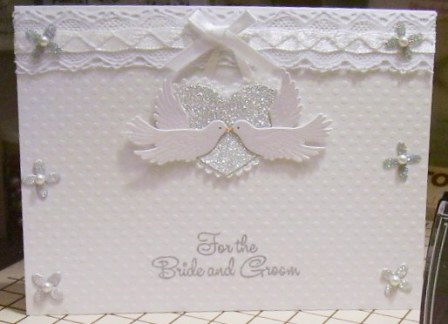 We also have card ideas and tutorials in different themes (including more handmade wedding cards) so feel free to browse our navigation bar on the left! Thanks for visiting and hope you drop by again! :)
Let's Make Greeting Cards Homepage