The Design Team
│ Kathleen Hernandez │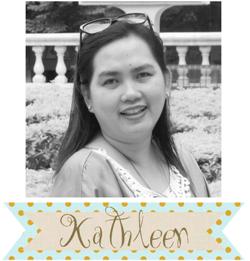 {Visit My Blog}


How long have you been making cards?

I created my 1st card last Sept. 2010 with a butterfly shaped card with help from a Colorful Creations' card challenge. It took me sometime before I was able to gradually adapt and grow my skills in cardmaking with the help of my DT post at Kaboodle Doodles. With that, I got my 1st guest designer spot as cardmaker last July 25, 2011 at The Crazy Challenge.

How would you describe your crafting style?

My style is usually clean and simple (CAS) but I'm little by little venturing or adapting to other styles.

Any favorite techniques?

I love stitching in cards for it brings out my love for embroidery and cross-stitch works which I now lovingly and patiently add to my papercraft projects.

What crafting product can you absolutely not live without?

I can't live without my crafting tools e.g craft pick, craft mat, craft scissors, cardstock and pattern papers

Any favorite craft supplies manufacturers?

I have yet to discover more craft supplies manufacturer. I'm currently enjoying Echo Park and Nikki Sivils. Would really want to be able to dabble with Fancy Pants and October Afternoon so as to discover or venture into another style in crafting usually associated with these manufacturers.

Where do you find inspiration?

I find inspiration in almost everything from holidays, occasions, challenges and sketches.

Anything else about you that you'd like to share with us?

I'm glad to be part of Let's Make Greeting Cards. Thanks to LMGC I will be able to share my skills as a cardmaker with everyone here. This is to inspire cardmakers to patiently hone their own skills and for us to grow together in these wonderful crafting hobby of creating cards.
I would say I'm more of a practical crafter and content with what I currently have in terms of tools and equipment. I think of papercrafting as a hobby done leisurely at home by oneself, with family and with friends. It's a way of discovering the artist in oneself. Papercraft projects doesn't fail to amaze me - making me want to design and create on a whim. Though I like planning my works, I let my card projects take me wherever it would lead me in coming up with a finished and completed creation.I find inspiration in almost everything from holidays, occasions, challenges and sketches.


Entry Card
Click photo for the tutorial!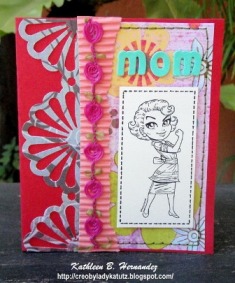 Meet the LMGC Design Team!
Back to Let's Make Greeting Cards Homepage