Make a Mothers Day Card Today!

Looking for card ideas to make a Mothers Day Card? On this page, our Design Team member Kathleen shares a card idea and detailed instructions to help you craft a beautiful card for your mum!


---
Easy Mothers Day Card
By Kathleen Hernandez
---
Hi, all! Today I'm going to share with you instructions on how to make this fun card for Mothers Day. It's going to be easy and I promise you'll have a lot of fun! Plus, if you make a Mothers Day card instead of buying one, you'll make your mom's day so much more special!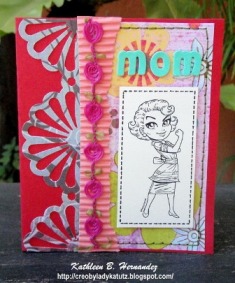 Supplies and Tools:
We will need the following supplies and tools. Feel free to substitute with whatever you have. :)
Cardstock (Star Paper Corp.)
2 Patterned Papers (Filstar Distributors Corp.)
Corrugated Cardboard (Filstar Distributors Corp.)
Thread (DMC)
Digital Image (Kenny K)
Pen (Parker)
Alphabet Stickers (Filstar Distributors Corp.)
Rosette Trim (Filstar Distributors Corp.)
Border Punch – Daisy Fan (Martha Stewart)
Craft Scissors
Needle
Craft Pick (Tim Holtz' Tonic Studios – available at CropStop)
This is a really fun way to make a Mothers Day card! I've provided an easy-to-follow tutorial for you to create a beautiful gift for mom.

Assembly:


Prepare a 5x7 cardstock trimmed to size.

Punch a piece of your pattern paper with your Daisy Fan Punch & Trim.

Position your Daisy Fan punched pattern paper on the left side of your cardstock. Cut another pattern paper to size to fit the other side of your 5x7 cardstock. Adhere.

Tear away a strip of corrugated colored cardboard.

Adhere your corrugated cardboard in between & slightly on top of your adhered Daisy Fan border strip and your pattern paper.

Prepare your needle, thread and Craft Pick.

Stitch around the visible edges of your adhered pattern paper.

Print your digital image and cut the printed digi image to size.

Faux stitch around your digital image.

Prepare your letter stickers to spell "MOM" and pop up your digital image on the card. Prepare also your rosette trim.

Adhere your rosette trim on top of your corrugated cardboard to finish and complete your "Mom" or Mother's Day Card.And that's it! You now have a fun, happy card for your mom!
Thank you for crafting with me!
Would you like to make a Mothers Day card with another card idea?
Go back to our main page on Mothers Day Cards and get inspired with another idea from my fellow DT Members! :)

Back to Let's Make Greeting Cards Homepage