The Design Team
│ Heidi Wunderlich │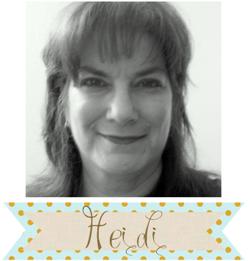 {Visit My Blog}


How long have you been making cards?

I've been making cards for about 7 years I guess…I wanted to make Christmas cards one year and had so much fun that I've been making them ever since.

How would you describe your crafting style?

I'd have to say my style is clean and colorful. I love the vintage, chic-shabby look but that really isn't me. I like clean lines, lots of color and of course bling.

Any favorite techniques?

That's a good one..I love finding new techniques on actual card folding – you know, making something other than a standard A2 card. It's always fun to make something different.

What crafting product can you absolutely not live without?

I have become obsessed with 6x6 paper pads from various vendors. Since I LOVE, LOVE, LOVE making cards these paper pads are fabulous since they shrink the patterns from a 12x12 paper size to fit cards. At last count I have...wait for it...39!!!

Any favorite craft supplies manufacturers?

It's difficult to narrow it down to just one.. I love Copic markers, Bo Bunny, Doodlebug, and My Minds Eye to name just a few. I don't discriminate- I love all things crafty!

Where do you find inspiration?

I tend to watch hours and hours of youtube videos – I love the ones that show different techniques. Then when I'm driving or maybe trying to fall asleep I'll think of what cards I need to make and can I use the new techniques I've seen to make them? I also pay attention to things around me.. I once found a cool design on the bottom of a Styrofoam container and thought it would be great on a card!

Anything else about you that you'd like to share with us?

I love the whole crafting process, buying supplies, figuring out what supplies to use and then creating something someone else will love. It's great to see the joy on someone's face when they open the handmade card. I look forward to being a member of the LMGC design team and my hope is to inspire people to find the joy in creating something special for that someone special.


Entry Card
Click photo for the tutorial!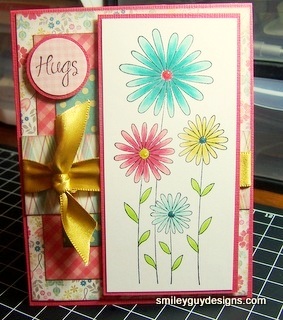 Meet the LMGC Design Team!
Back to Let's Make Greeting Cards Homepage