Congratulations Baby Card
Get inspired by this Congratulations Baby Card by our DT Member Christy and create a special gift for the proud new parents! :) Having a new little one is such a wonderful blessing and such an occasion definitely deserves a lovingly handmade gift!
---
New Baby Card
---
Hi there! We're doing a cute baby card today and it's going to be a whole lot of fun! So take out your supplies and join me as we create a special Congratulations baby card for an equally special occasion!
Materials Needed:
Hedgehog Visit stamp from Penny Black
StazOn Jet Black Ink
Colored Pencils
Baby Oil or Gamsol
Blender Pencil or Fantastix
Make-up sponge
3 ¾" x 3 ¼" white card stock
5" X 7" yellow cardstock card base
4" x 3 ½" Dark pink patterned paper from Recollections Bold Basics paper pad
4 ¼" x 3 ¾" yellow cardstock
We R Memory Keepers Cloud/Scallop Corner Chomper
4 ¾" x 6 ¾" Patterned pink paper
8" of Pink 1" wide ribbon
8" of little girl feet and hand print ribbon
Foam tape
Tombow Tape Runner
Tim Holtz Tonic scissors
Dazzles Gold Greeting Stickers
K & Company flower stickers
---
---
How to Make This Card:
Stamp image using the StazOn Jet Black ink onto a piece of 3 ¾" x 3 ¼" white cardstock.
Begin by coloring in the image with the color pencils of your choice and then blend the colors using a blender pencil or a Fantastix belender by dipping end lightly into a make-up sponge that has baby oil on it or gamsol.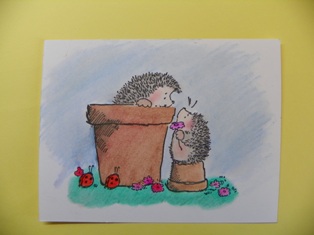 Take your pink and yellow paper for matting your image.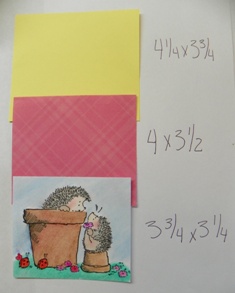 Take your image on the white cardstock and punch out the corners using the Crop-A-Dile Corner Chomper Scalloped side.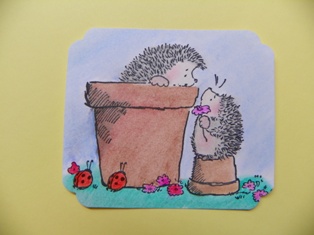 Continue to use the Corner Chomper on the Dark pink patterned paper as well as the yellow cardstock.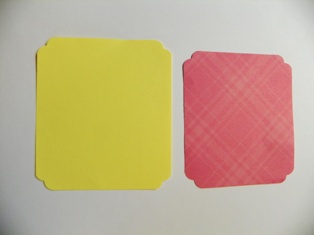 Adhere these three pieces together carefully centering each piece; the image goes onto the pink and then they both go onto the yellow cardstock- set aside.
Card base is yellow cardstock at 5" x 7".
Take 8" of 1" wide pink ribbon and 8" of white & pink baby girl hands and feet ribbon – adhere the feet and hand ribbon onto the wide pink ribbon being sure to center.
Take the two ribbons now adhered together and adhere in the center of the baby patterned paper – take 1" on each side to hang over & adhere to back of paper.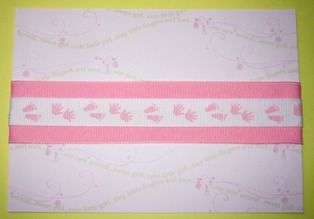 Adhere this paper to the yellow card base – again, keep in mind to center this leaving an even border on all sides.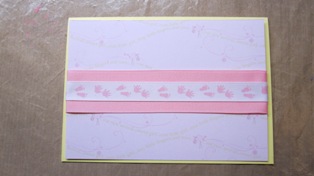 Use foam dots to attached the image to card – angle this to the left.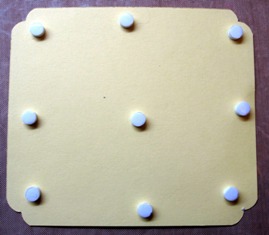 K & Co. chipboard flowers are used to add some extra highlights on the top right corner.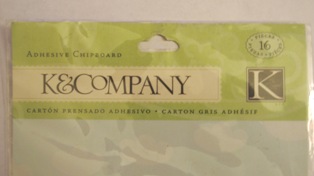 Take a Congratulations Dazzle and place on the bottom right just a little underneath the image.
And that's done! Isn't making a Congratulations baby card a lot of fun? :) Any new parent would be delighted to get one!
See Another Congratulations Baby Card
Let's Make Greeting Cards Homepage