Christmas Card Making Ideas
Fun and easy Christmas card making ideas for you!
One of our Christmas card making ideas is this fun and easy card with three Christmas trees as the focal point. You can never have too many Christmas trees, I must say!




-Three Christmas Trees-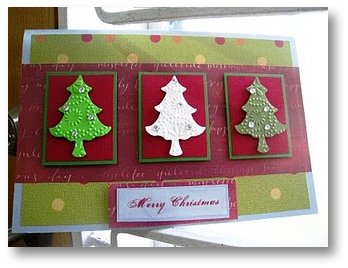 Materials:
- Cardstock for the card base. I used silver for my card.
- Two patterned papers and 2 coordinating plain papers of your choice. Christmas colors are green, red, blue, silver and gold, but of course this is your card, you can choose any pattern or color you want. The sky's the limit! The more challenging task of making it Christmas-y is what's fun, after all. For this card though, I chose traditional colors.
- Adhesives. I always use double-sided tape and hot glue for my cards. My first choice of the two would be no-mess, no-stress double-sided tape. And then whenever double-sided tape can't hold something together, hot glue can take over. I also love mounting tapes for the dimension they create.
- Scissors, blade cutter or paper trimmer
- Three Christmas tree cutouts. Save and print the template below.

Instructions
- Cut your cardstock to the desired size of your Christmas card.
- Using one of your chosen patterned papers, cut out your first paper layer for your card. This is the dotted paper on my card. Leave half-inch spaces on all sides if desired but this is not necessary.
- Using your other patterned paper, cut out a strip to horizontally run at the middle of your card.
- I used three Christmas tree cutouts for my focal point, bought at our local supply store. Just so you won't be missing on the fun, I made a Christmas tree template you can print and cut then trace into a green card stock or craft foam!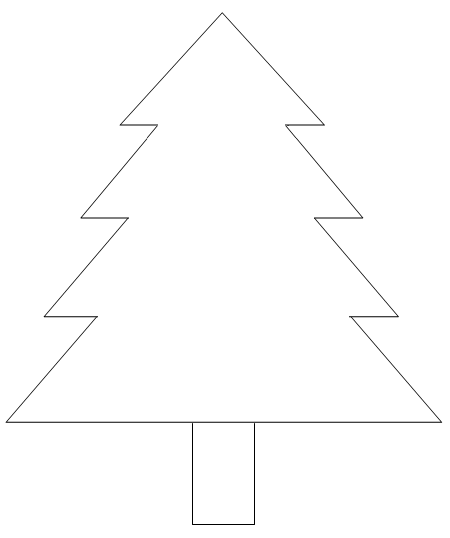 - Using your plain papers, create "frames" for your Christmas trees that are a bit bigger in size than your Christmas tree cutouts.
- Adhere your Christmas tree cutouts to the frames.
- Position the frames on your card. For a fun twist and added dimension, mount the frames using mounting tape.
- Add in a sentiment. Don't have stamps or quote stacks? Here, I took the liberty of making you two more printables!


- Add gem stickers or glitter for a stylish finishing touch!
Got any questions about this card? Please contact me directly through this form here. I'll get back to you as soon as I can, which normally takes no more than 48 hours.
Got some Christmas card design ideas up your sleeve? Please share! We'd all love to see your handmade Christmas cards. Simply email me here. I can't wait to see what you come up with. :)

Done with this Christmas card? What's next?
Got your card but can't figure out what to say? We've got a collection of Christmas card sayings you can check out. One is sure to be perfect for your card. :)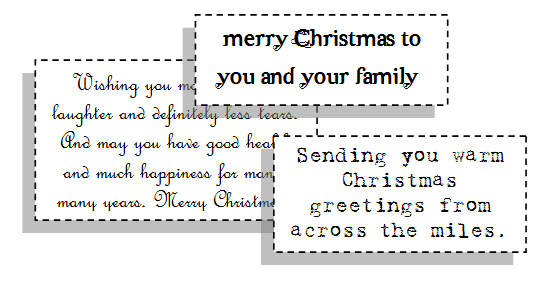 Got too many cards to make that you're just 101% sure you won't be able to make enough in time for the holidays? Don't worry, we've got the perfect solution!
FREE Online Printable Christmas Cards


On a roll? Check out this page for more Christmas Card Making Ideas!
Go back from Christmas Card Making Ideas
to Let's Make Greeting Cards Homepage