You + Me = Love
by Natt Smith
(Denver , Colorado)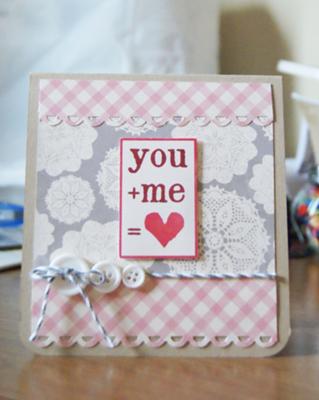 You + Me = Love
Homemade Valentine Card

" You + Me = Love "

This card is for my sweet husband.

Card Size 5 1/2 " x 5 "

Supplies : My Minds eye patterned paper Love me collection, My Minds Eye Love me collection die cut, October Afternoon Twine, White Buttons, Twine

Tools : Fiskars Border punch, Cricut trimmer, 3M ATG glue, Fiskars corner rounder, Foam dot

This is how I made this lovely card.

Step 1: Cut craft paper card stock at 5 " x 11" then fold it in half

Step 2 : Round the corners.

Step 3 : Cut patterned paper into strips.

Step 4 : Punch those patterned paper.

Step 5 : Cut another piece of patterned paper, glue it on card base then adhere scrap paper that you punched using border punch in the previous step.

Step 6 : Adhere twine on card along the button edge. Add button then make bow.

Step 7 : Pick out your favorite die cut and put it on card using foam dots to give more dimension to your card !!

That's it 7 easy steps to make this cute card

About me : I'm Natt. I'm crazy for all kinds of pretty papers and embellishments.

I've been doing paper crafts for a year and totally love it !! My style is simply cute. I love doing tutorials of my work to help inspire others.