You Hold the Key to My Heart
by Natt Smith
(Denver Colorado USA)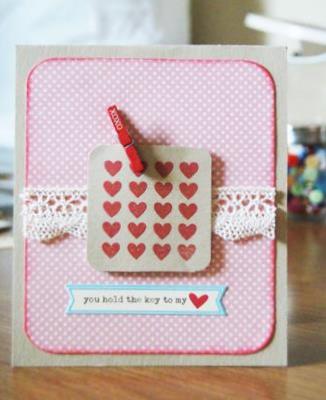 You hold the key to my heart
Homemade Valentine Card

" You hold the key to my heart "

Size 4 1/2 " x 5 1/2 "

This card is for my husband.

Supplies : Patterned paper by Pebbles Inc 4" x 5" , Craft paper card stock 4 1/2 "x 11", 2"x 2" Craft paper , Hearts Stamp from Joann, Lace 5 " long , Small cloth pin by Pebbles Inc, Jillibeans Soup label sticker

Tools : Heat gun, clear embossing powder, Martha Stewart Ink pad,

Step 1 : Fold craft paper into card base.

Step 2 : Ink pattern paper edge.

Step 3 : Applied ink on stamp.

Step 4 : Applied clear embossing powder then used heat gun to emboss it.

Step 5 : Cut in to 2"x 2" size and added foam dots in the back.

Step 6 : Use glue dots to adhere lace and assemble card together. I added a little touch by putting a clothes pin on it and instead of stamping a sentiment, I used Jillibeans soup label.

About me : I'm Natt. I'm crazy for all kinds of pretty papers and embellishments.

I've been doing paper crafts for a year and totally love it !! My style is simply cute. I love doing tutorial of my work to help inspire others.
Return to In the Mood for Love: Romance Cards Contest 2012.