Vintage Valentines (With Love)
Handmade Card Idea
by Kathleen B. Hernandez
(Manila, PHILIPPINES)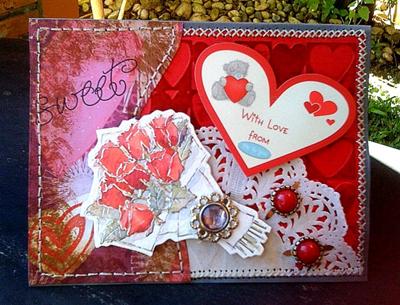 Vintage Valentines (With Love) Card Idea
INTRODUCTION:

It's so nice to feel loved especially on special occasions such as Valentine's Day. Love is manifested in so many ways. And on Hearts Day, we usually show it through sending flowers with a special note to our loved ones. This is my inspiration for selecting the "Bouquet of Roses" & "With Love From Me to You Heart" images in creating my Valentine's Day card.

I've wanted so much to try creating vintage cards. Thus, this is my 1st attempt on making one. I made use of various techniques from distressing, inking to stitching by hand for these are the 3 usual go-to-techniques in achieving a bit of vintage feel on any of your creations. With the proper materials, tools & equipment, you'll find making vintage cards easy-peasy.

SUPPLIES:



Red & Gray Cardstock: Star Paper Corp.


Patterned Paper: All About Scrapbooking/Filstar Distributors Corp. (Love Paper Collection)


Images: Ling Designs ("Bouquet of Roses" & "With Love From Me to You" Heart)


Thread: DMC (see photo)


Gem Brads: All About Scrapbooking/Filstar Distributors Corp.


Distress Ink: Tim Holtz' Ranger - Antique Linen, Fired Brick & Gathered Twigs (see photo)


Adhesives (double-sided tape, strong-hold liquid glue & mounting squares)


Others: coffee, doily, tissue papers


TOOLS:


Craft Scissors


Craft Mat


Craft Pick


Cuttlebug: Provo Craft


Heart Embossing Folder: Provo Craft


INSTRUCTIONS:


Prepare your doily: Cut your doily in half. We'll just use 1/2 of the doily. (You can have your doily misted or you can apply ink on it). I chose to spread drops of coffee on my doily. Set aside to dry.


Cut your cardstock into A2 card size (or any card size you choose). Make sure you choose a darker colored cardstock as base. (I chose dark gray as my card base' color.)


Cut your 2nd cardstock of different color (I chose red) into A2 size. Emboss using your Heart embossing folder (see photo). Dab Fired Brick distress ink on your embossed red cardstock. (You may choose to ink your embossing folder before embossing your cardstock instead.)


Cut your embossed & inked red cardstock slightly smaller than your base gray cardstock. Adhere on center of your gray cardstock with double-sided tape. Make sure that your gray cardstock borders your embossed red cardstock.


Collect your dried doily & adhere on the bottom-right of your embossed red cardstock.


Prepare your Valentine-themed patterned paper: Cut a portion of your pattern paper to cover the left side of your card. Shape the right side of your trimmed pattern paper in a wave-like curve.


Apply ink on your shaped Valentine-themed patterned paper: First, smudge Antique Linen Distress Ink near the edges. Then, dab Gathered Twigs Distress Ink with just plain tissue paper - again, around the edges. (You may opt to use an ink applicator.) Let dry. Adhere dried pattern paper on the left side of your card.


Apply stitching on your card using light gray thread (or any coordinating colored thread): Line stitch or use back stitch near and around the edges of your adhered Valentine-themed pattern paper. Use cross-stitch around the visible portion of your embossed red cardstock including the bottom edge of your doily. (NOTE: Use your Craft Pick & your Craft Mat when stitching by hand. Pierce holes according to the kind of stitching to be applied. Stitch with a needle and thread. You may opt to use your sewing machine, if readily available.)


Now, position and pop-up your (2) images on your card using mounting squares.


Glue Gem Brad Accents on desired areas: The white gem brad on the "Bouquet of Roses" image. While, the (2) red gem brads as doily accents.


As a finishing touch, curl the outer decorative edges of your doily (the part which is visible only).


ABOUT ME:
You can call me Kath. I've been scrapping and cardmaking, or should I say papercrafting, since September 2010 only. And I have been enjoying my new-found hobby since then.
I would still love to try new styles and techniques in crafting and wouldn't hesitate to share these with everyone. You can find me at my blog,
Creo by Lady Katutz
where I share my creations. Hope you could drop me a line when you visit.