Valentine White Card
by Kathleen B. Hernandez
(Manila, PHILIPPINES)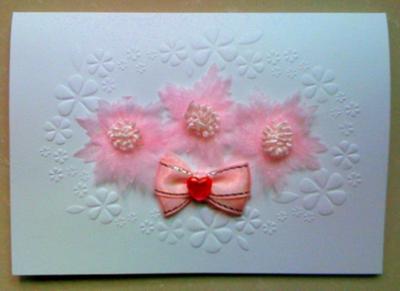 Valentine White Card
INTRODUCTION:

I've always wondered how wonderful, elegantly created cards are made. Thus, I decided to try creating one using (again) the "Less is More" style or technique with added use of negative or white space. As such, this would be the last card entry of mine using the said style. I was opting for a monochromatic white card but I just can't help adding touches of pink both outside and inside of the card.

SUPPLIES:



Cardstock: Papermania


Flowers: All About Scrapbooking


Gem Accents: UBL


Thread: DMC


Other: pink ribbon


TOOLS:


Sew Easy: We R Memory Keepers


Bow Easy


INSTRUCTIONS:


Emboss (in oval floral shape) your white cardstock. (Or if a pre-embossed cardstock is available, make use of it.)


Position and adhere 3 dainty flowers inside the oval embossed area.


Using Bow Easy, create a small bow and adhere below the flowers inside the oval embossed area.


Now, work on the inside of your card:




Using your Sew Easy Tool – Hearts, run it across a separate white cardstock. Make sure the cardstock is punctured in the form of hearts using the said tool.


Follow the holes of the pierced cardstock and stitch along.


After, fussy cut the row of hearts making it a border strip.


Adhere the fussy cut sewn heart border strip on the bottom of the inside of your card.

Glue down gems for some sparkle.





Drop by my blog:
Creo by Lady Katutz
where I share various projects.