TWIN HEARTS
Handmade Valentine Card
by Kathleen B. Hernandez
(Manila, PHILIPPINES)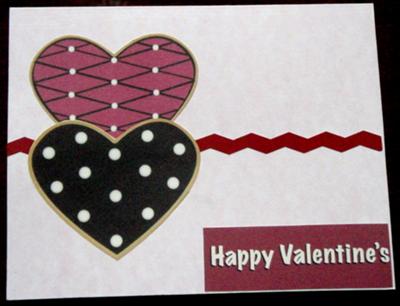 Twin Hearts
Handmade Valentine Card
INTRODUCTION:

I have been fascinated by handmade cards that espouse the theme of "Less is More". Thus, this is my 2nd attempt using the said style or technique. This Valentine card is called "Twin Hearts" after the Pinoy soap opera shown on Philippine television years back.

SUPPLIES:



Cardstock: Star Paper Corp.



Zigzag Border Strip: Nikki Sivils, Scrapbooker



Cut-outs: Nikki Sivils, Scrapbooker


INSTRUCTIONS:


Position the zigzag border strip sticker horizontally below the center of your card.



Adhere your (2) heart cut-outs on your border strip on left.



Position your sentiment (cut-out) below your border strip on right.


You can visit me at my blog,
Creo by Lady Katutz.