Turst Your Heart Card
by Mandi H.
(Michigan)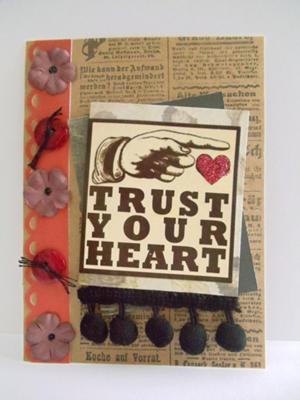 Turst Your Heart Card
For whom did you make it?

I made this for nobody special. I like to have cards on hand.

What tools and supplies did you use?



Kraft cardstock (the Paper Studio)


Trust Your Heart sticker, red paper, pattern papers and text stamp (Glitz Design)


Pom-pom trim


Black ink


Black and red stickles


Paper flowers


Black embroidery floss


Buttons


Burgundy marker (Bic)


Apron lace border punch (Fiskars)


How did you make it?


Make card from kraft.


Stamp text.


Add punched paper strip, pattern papers, trim, flowers and sticker.


Color buttons.Sew onto card.


Add stickles to the flowers and to the heart on the sticker.


Can you tell us more about you?
I am an avid paper crafter. I have been doing this all my life. I first started doing cards but now I also scrapbook.
Where can we see more of your works?
You can find more of my projects at my blog,
The Kraze of MJ
.