"Thinking of You" Card
by Kathleen Margaret Charity B. Hernandez
(Manila, Philippines)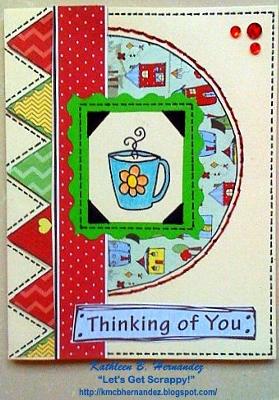 My Card
Hi, everyone!


I would like to share a bright and cheery card with you. I made this for a challenge at Colorful Creations for the 1st half of July 2011.
Since, I still have scraps left from a previous class I've attended together with Rochelle at an LSS, I decided to put them into good use. Thus, the card. My concept was "Thinking Of You while having my cup of coffee or tea".
The materials are all Nikki Sivils from the "We are Family" Line except for the 8.5x11 cream cardstock which I bought at a local bookstore in my country.
Supplies & Tools Needed:
Cardstock - cream color
Pattern Papers
Border Strip
Digital Image - any would do
Sentiment of your choice - could be stamped or cut-out
Rhinestones
Pen & Marker
Needle & DMC Thread
Craft Pick - mine was by Tim Holtz
Decorative Scissors - any would do but i chose scallop
Here's a brief tutorial:
1. I cut the cream 8.5x11 cardstock in half. (I preferred cream to go with the colors of Nikki Sivils' paper line.) Instead of the regular sized or standard sized card, I merely folded in half the already-halved cardstock. This is the card base.
2. I made use of the sketch provided in Colorful Creations' Challenge by DT Tess Davis. A color combo was also provided which made it easy to mix and match the colors needed for the card.
3. On the Nikki Sivils paper, I chose the red polka-dot border strip which was cut to size and adhered vertically near the left side of the card. The banner-like pattern paper adhered on the left of the border strip was actually a kite on Nikki Sivils' pp or dp. This was cut in half and adhered vertically. (You could make your own banner.) The mini houses pp or dp were cut in a half-moon shape and adhered on the center of the card on the right side of the vertical border strip. This was later on outlined with plain black pen. The sentiment, "Thinking of You" is a Nikki Sivils' cut-out which was perfect for the card. (You could make use of your own card sentiment.)
4. I made use of Fresh Brewed Designs' digi stamp (Flower Mug1) and colored it with pencils in accordance with the color combo. The corners of the digi paper I colored with plain marker to create the illusion of photo corners, giving focus on the image of the card.
I matted this image with a scalloped-cut edged green multi-purpose paper.
5. I made use of real stitching on the card. It's the 1st time I made use of this technique in cardmaking. With a craft pick, I evenly made holes outlining the half moon shaped pattern paper. With the holes in place, stitching with thread and needle became a breeze.
6. I then applied faux stitching to outline the edges of the card and the vertical banner on the left side. I guess I can't get enough of stitching. lol
7. It felt like the top right hand corner is empty, so I decided to adhere rhinestones of 2 different sizes to add some bling and sparkle to the card. Those were the finishing touches.
Voilà! Your card is ready!
About Me:
Kathleen Margaret Charity B. Hernandez
I know I have a long name but you can simply call me Kath. I live in Manila, Philippines. I'm a Certified Public Accountant and had graduated with a BS in Accountancy degree at De La Salle University, Manila.
I had no time for crafting in my younger years for I was intent on finishing my studies and finding work. I might have delved on cross-stitching when I was on break from my studies but I set aside any crafting ambitions in pursuit of my career.
I practiced my profession starting with being an auditor (external then internal). I then transferred and became an accountant for a GFI until I saw the necessity to give up the corporate world.
I tried my luck as a free-lance accountant and had a brief stint. Now, I stay at home with my loved ones taking care of their needs and having time for my previously shelved crafting hobbies.
I got started into scrapbooking & cardmaking when I learned of and joined Colorful Creations last Sept. 14, 2010. Since then, I've been enjoying the craft. Though, I'm more of a scrapper than a cardmaker, I delight in being able to create cards at times. I still have lots of styles and techniques to learn in cardmaking and wouldn't hesitate to share these with my fellow crafters. You could always find me at
my blog
, if you need any inspiration from scrapbooking to cardmaking. Hope to see you there! Do drop me a line when you visit. =)
Kathleen (Kath) B. Hernandez
My Blog:
Let's Get Scrappy!
Crafting Positions as of July 2011:
Designer, Kaboodle Doodles Challenge Blog
Administrator, Filipino Scrapbookers Club in Facebook