Snow Friends Christmas Card
by Paula Bloom
(Lewisville, TX)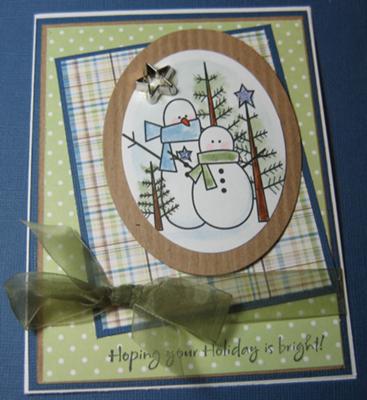 Snow Friends Are Best
Handmade Christmas Card
I love using digital stamps! The number one reason is because they can be resized to what you need for your project! These snowmen are from Whimsie Doodles digi stamps. I've had them for several years and always go back to them for that special card!
Visit Paula's blog,
Love Blooms in Me
, for more of her wonderful creations!
* * * * * * * *
Thank you, Paula, for another beautiful card! I agree, digistamps are really versatile and can be resized and reused for as many times as you want! On that note, I'd like to share another site I'm maintaining. It's a blog actually and I share lots and lots of FREE digistamps there. I plan to integrate the blog here in this site but haven't really gotten around to doing it yet.. It's
Paper Dreams of Mine
. :)
Your card is perfect. I love non-traditional colors for Christmas! And your snowman friends are too cute! Thanks for sharing this, Paula!
All the best,
Rochelle