Smitten Kitten
Handmade Valentine Card
by Shellye McDaniel
(Texas)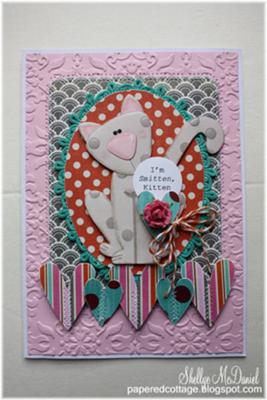 Smitten Kitten
Handmade Valentine Card
Tools:



Sizzix Big Shot


Cuttlebug Embossing Folder


Paper Trimmer


Small Tip Scissors


Sewing Machine


Sanding Block


Fiskars "Oval" Cutting Template


1" round punch


Computer font: Courier New (for creating sentiment)


Supplies:


5x7 White Card


Foam Dots


Fabric Glue


Adhesive


Pale Pink textured cardstock


Patterned papers: Lily Bee Design "Head Over Heals"


Paper flower by Petaloo


Orange/White Baker's Twine by The Twinery


Kitten 3-D Embossed Sticker by We R Memory Keepers


Trim by We R Memory Keepers


Misc supplies: hand-cut hearts and printed sentiment from home computer


Assembly:


First, trim pale pink cardstock to 4.75"W x 6.75"H. Emboss cardstock with desired embossing folder. Cut patterned paper to 3.75"W x 4.75"H; center from the top of cardstock, leaving a 1/2" margin at top and 1" margin at bottom and adhere. Machine stitch around perimeter of patterned paper.


Using the oval template, trace and cut out a 3"W x 4"H oval from second patterned paper; sand around edge with sanding block. Glue trim to the back of the oval with fabric glue; allow to dry.


Apply foam dots to the back of the oval and attach to card. Add foam dots to the back of the Kitten sticker and adhere to oval shape.


Next, create hand-cut hearts from various patterned papers by taking small squares, folding them in half and then cutting into shape.


Lightly sand edges of each heart with sanding block. Machine stitch down the center of each heart if desired.


Create your sentiment by computer, or hand-write; punch with 1" round punch and adhere to kitten. Add a hand-cut heart topped with the paper flower under the sentiment. Loop the baker's twine a couple of times and tie into a bow; attach with fabric glue.


About me:
I love making cards! I design for a couple of manufacturers and a kit club.
You can see more of my works at
Papered Cottage
.