Red-is-Love Valentine's Day Card
by Mai Garcia
(Manila, Philippines)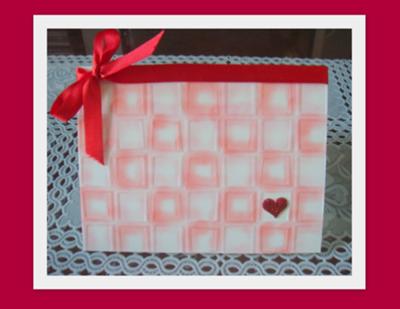 Red-is-Love Valentine's Day Card


Materials:



White cardstock


Red and pink ink pads


Sponge dauber


Red ribbon


Heart sticker/embellishment


Embossing machine


Textured Impression – Sizzix (squares)


Steps:


With your embossed cardstock, daub the first square from the top with pink ink using a sponge dauber. Do this for the next alternating squares until you get to the last square.


Before daubing the blank squares with red ink, select a blank square where you can adhere your heart sticker. Keep in mind to leave this blank. Now, daub with red ink. The alternating pink and red colors will add depth and reduce monotony in your card. ;)


When done, put your sticker on. I have a 3D glittery heart which fits exactly in the square.


To add a finishing touch, tie a ribbon on top.


More projects on my blog,
Publicly Private
.