Pink and Green Valentine Card
by Priyanka Mandal
(Kolkata,West Bengal, India)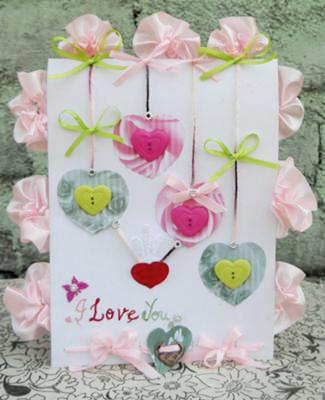 Pink and Green Valentine Card
Here is another card I made. Its really simple and easy.
Materials:


Printed Corrugated Paper


Heart Punch


Ribbon


Button


Needle and sewing thread


A Piece of lace


Heart ribbon slides


Wool (white and coloring)


Glue


Water Color (Optional, you can use stamp)


Procedure:Step-1
Punch out 4 small heart pieces, attach wool string behind each. Attach a smaller wool string between two hearts to hold the small red heart for extra touch. Now glue hearts and wool string on your card stock. Attach buttons on the heart and lace behind the red heart and glue it on the smaller wool string, so it represent this is the queen heart :)
Step-2
Tie out small ribbon and decorate your card, now take pink ribbons and make flowers with it and glue around your card (See photo).
Step-3
Stamp out or write "I Love You" and color it with water color or markers.
Step-4
Make some cut marks at the end portion of your card and sew out ribbons with hearts slide. And you can add some embellishments like butterfly, small ring at the end of the wool string.
For more details visit my blog,
My Hobby is My Heaven
.