Make your own birthday cards.
FREE birthday card ideas!
Make your own birthday cards using our fun and easy
- not to mention FREE! - birthday card ideas and tutorials!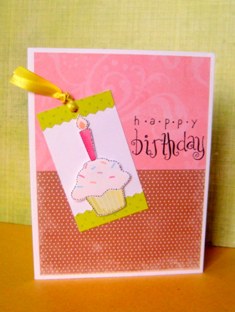 Making this birthday card is fun and easy! Plus, we're going to make a basic tag or bookmark that you can replicate and use as is.

To make your own birthday cards, you'll need the following: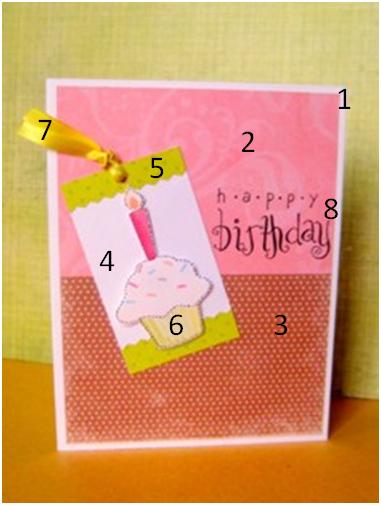 For your card:
1. White cardstock for your card base. Mine measures 10 inches by 6.5 inches, scored and folded at the middle and in portrait orientation (length is longer than width).
2. Patterned paper that is light enough so that your stamped or handwritten sentiment won't be hard to read. This pink patterned paper is from Autumn Leaves Printed Paper Pack, a 100-pc paper pack I bought from Amazon.com a few months back.
3. Patterned paper that will complement the above patterned paper's color. This brown, dotted paper is part of the Card Café Collection from Lettering Delights. I downloaded the pattern, printed it and cut it to fit my card.
A little tip if you're interested in downloading and printing patterns or graphics. Cardstock eats up a lot of ink when you print on it. So whenever you can, opt to print the pattern or graphic on a clean sheet of paper instead. If you need it on cardstock, you can always cut the pattern or graphic out and stick it on cardstock using a glue stick. In order to preserve the colors of your print-outs, you'll want to print them on white paper, not off-white or cream or any other color for that matter.
4. To make your own birthday cards, you of course need to have birthday sentiments. I handwrote this one. You can print something from your computer or cut out letters from magazines. You can also use rubber stamps if you have one for birthdays.
For your tag or bookmark:
5. White cardstock measuring 3 inches by 2 inches.
6. Paper scraps. Rummage through your scrap drawer and cut out 2 pieces of patterned paper measuring 0.5 inch by 2 inches.
7. Choose a birthday-related image. It can be a candle, a cake, a gift, some party hats, party banners.. You have soo many choices! I chose a cute cupcake with a candle for this one, another one from Lettering Delights' Card Café Collection.
8. A bright-, happy-colored ribbon of your choice. :)

What you should do:
1. Adhere your patterned papers to your card using a glue stick or double-sided tape.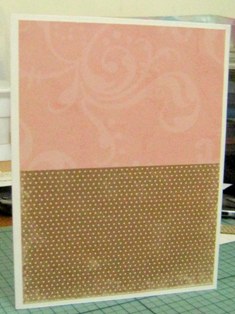 2. Let's start making your tag. The 2x3 inch white cardstock will serve as your tag's base. Your 0.5x2 inch patterned papers will serve as the top and bottom borders of your tag. Glue them in place using your glue stick.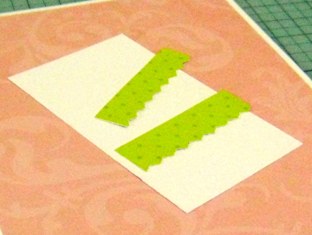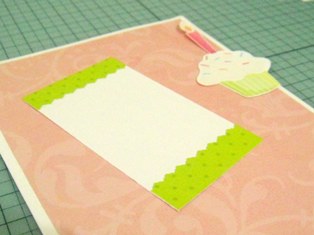 3. Prepare your birthday image. If you want to make it stand out a bit more, drawing broken lines on the edges is a wonderful technique that you can use over and over again when you make your own birthday cards.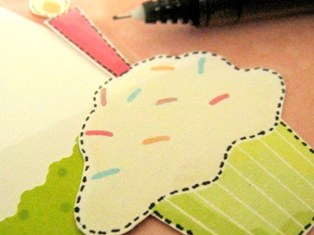 4. Mount your image on your tag using foam tape to create a bit of dimension. Punch a hole on your tag, add in your ribbon and voila! You've created a pretty tag or bookmark!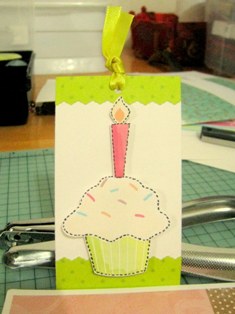 If you want to, you can create more of this and use them for gifts. Or you can give them to friends to use as bookmarks too! For this tutorial though, we're going to use our tag as our card's focal point.
6. Adhere your finished tag to your card. Add in your birthday sentiment for a finishing touch!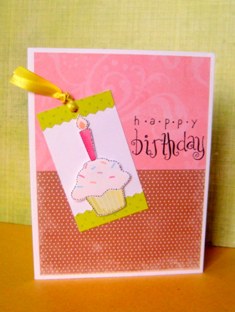 Hope you enjoyed this one! If you're on a roll, you can try to make your own birthday cards using our other card ideas as well! They're all fun and easy and they're sure to bring joy to your loved one's special day!
Go back from this Make Your Own Birthday Cards page
to Let's Make Greeting Cards Homepage