Make your own birthday cards.
FREE birthday card ideas!
Make your own birthday cards using our fun and easy -not to mention FREE!- birthday card ideas and tutorials! On this page you'll find a super easy-to-follow tutorial for this birthday card idea. We'll give you a list of the materials you need and detailed instructions so you can make your own birthday cards using this birthday card idea.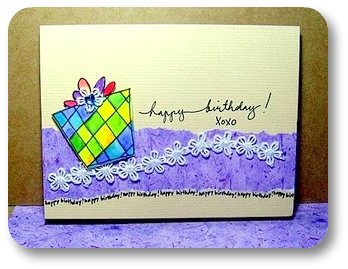 Materials:
♥ Cardstock to act as your card's base. I used a cream-colored one for this card since I wanted this to be clean and simple. No extra unnecessary colors.
♥ Patterned or plain paper. I used the violet textured paper from Miss Elizabeth Birthday Paper Pack. It's a wonderful birthday-themed paper pack full of bright, happy colors and birthday images such as candles, cakes, ice cream and gifts. It's almost effortless to make your own birthday cards with this pack!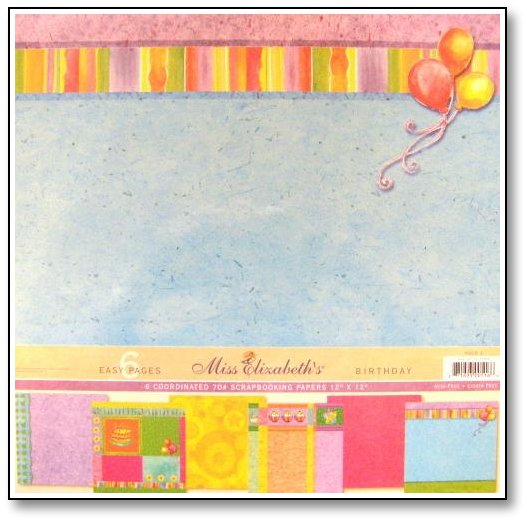 If you don't own a paper pack that's specifically birthday-themed, no problem! You can use any patterned paper you have.
♥ A scrap of lace
♥ Scissors
♥ Adhesives. For this project, I used a glue stick and some hot glue. I would have loved to use double-sided tape like I always do but we're going to use an irregularly-shaped strip of paper so.. no can do. Glue stick it is.

Directions:
♥ Cut your cardstock to your desired orientation (landscape or portrait) and size.
♥ Using bare hands, cut a strip of your chosen textured paper. Don't worry too much about it, just simply tear a strip that will run across your card.
♥ Adhere your torn strip to the card using your glue stick.
♥ Rummage through your stash and look for a birthday-themed image you can cut for your birthday card. I used a gift from the paper pack I talked about earlier.
♥ Cut the image out and adhere it somewhere at the left portion of your torn strip of paper.
♥ Using hot glue, adhere your lace to your card. Your choice if you want it straight across or curved.
♥ Finish off with some doodling and a birthday sentiment. If you're up to the challenge, you can have your sentiment handwritten to make your birthday card more personalized.
And that's it! :) Super easy right? Hope you had fun!

What's next?

Make your own birthday cards with another birthday card idea!

Got someone celebrating his/her birthday and you just don't know what to say? Browse through our collection of free birthday card verses and pick the one that's perfect for your birthday card!


Grab Free Printable Birthday Cards Online
Not the cut-and-paste type? Here are printable birthday cards that you can download, print and personalize with a message!


Go back from this Make Your Own Birthday Cards page
to Let's Make Greeting Cards Homepage