Make a Mothers Day Card
On this page, DT Member Dottie will show how to make a Mothers Day card that she designed herself. You will love how charming and girly this card is! Perfect for your Mom!


---
Make a Mothers Day Card
By Dottie Seubert
---
Hi! I'm Dottie and today I'm going to show you how to make one of our homemade Mothers Day cards.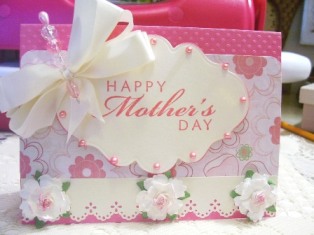 Please feel free to substitute whatever I used with whatever you have at hand. It's always good to let your creativity flow and make whatever changes you like. The important thing is that we have fun while crafting because that's what it's all about! :)

When you make a Mothers Day card, it is always highly appreciated if you consider the recipient's color or style preferences. Use pink if she loves pink, yellow if she's a yellow person. You can even use black if that's her favorite color! Yep, there are no rules. Well, maybe just one – to make it special.

Products I used to create my card:
Spellbinders Grand Calibur die cutting machine
Spellbinders Labels Twenty
Floral Embellishments by Recollections
Pink cardstock by Bazzill
Floral printed paper by Recollections
Cream colored cardstock by STAMPIN'UP!
Martha Stewart Eyelet Lace border punch
Happy Mother Day rubber stamp
Cream ribbon
Pink liquid pearl
Glue stick
Hot glue gun
Pop dots or foam tape
Assembly:
I used my pink card stock by Bazzill for the base of my card . I then cut my printed paper by Recollections, rounded the corners and glued the patterned paper to the center of the card.

I added some cream colored card stock by STAMPIN'UP! and then along the bottom of the paper I used my Martha Stewart Punch Eyelet Lace.

Along the bottom on the cream colored paper, I added 3 roses and gave the flowers a bit of color by lightly applying pink ink on the center of each flower.

Using my Spellbinders, I made a medium-sized die cut and stamped it with "Happy Mother's Day" using Stampin' Up! Regal Rose ink.

Around the die cut I added some pink liquid pearl drops.

Using hot glue, I then added the cream colored bow that I made using my mini Bowadabra bow maker (I love this tool, it makes great bows and is very inexpensive).

For added charm, I added a beaded stick pin that I made with pretty pink and transparent beads.

And that's it! I hope you enjoyed making a Mothers Day Card with me! Be sure to check out the other Mothers Day Cards we have for more inspiration or if you want another idea to make a Mothers Day card!

Back to Let's Make Greeting Cards Homepage