LOVE THY HEART
Valentine Card Idea
by Kathleen B. Hernandez
(Manila, PHILIPPINES)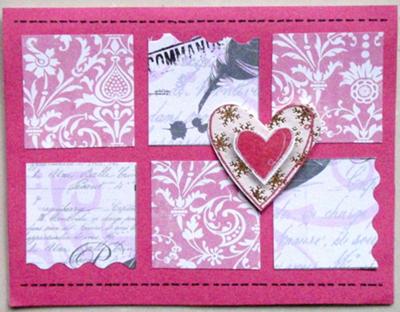 Love Thy Heart Valentine Idea
INTRODUCTION:

People would say to couples or to ladies to "Guard Your Heart." This may be health-wise and for most people "when they're in love". But others would say, "it's better to have loved and lost than to have never loved at all." This is the inspiration in the creation of my Valentine card. Now to which part can you relate or category do you belong? =)

SUPPLIES:



Cardstock: Star Paper Corp.


Pattern Paper: Echo Park


Pen: Parker


Die Cut Image: Ling Designs


Sketch: PageMaps


TOOLS:
Paper Shapers: Provo Craft
INSTRUCTIONS:


Using the blocking technique or grid design, cut 6 inchies from your pattern paper.


Trim one side of 3 of these inchies using your wave Paper Shapers.


Adhere these inchies on your card in 2 rows and 3 columns, making sure there are spaces in between each of them.


Faux stitch or doodle 2 broken lines or "marching ants" on top and bottom of your card.


Lastly, affix your heart die cut on the center slightly to the right of your card, on top of some of your inchies. Just make sure your image stands out from your card. (You may choose any die cut or even a digi image to adhere on this spot.)


Visit my blog:
Creo by Lady Katutz
.