Love Letters
Homemade Valentine Card
by Leanne Seed
(Katy Texas)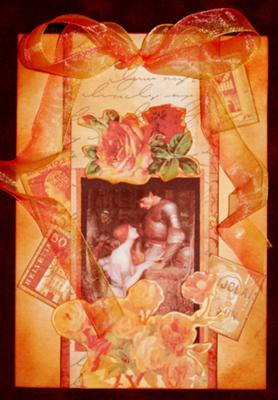 Love Letters Valentine Card
I made this as an art card to sell on my Etsy shop.

Materials you will need:

~ 8 x 5.5 White Card stock
~ Patterned Paper: Gecko Galz Smitten Papers "heart strings", Paper Studio Paper "script"
~ May Arts sheer Ombre ribbon in orange and yellow
~ Gecko Galz collage images; Knight in shining armor, postage and roses
~ Distress ink in Wild Honey & Rusty Hinge
~ Ink Essintials blending tool and foam pads
~ glue dots
~ Red Line Tape

How to make this card:

First take your pre cut piece of white card stock and using your scoring tool score down the center to create your card base.

Then using your blending tool and your wild Honey ink, ink the top of the card base in a circular motion all around the edges, you want it to be broken up so it is fine if some white is showing. The closer you get to the center lighten your pressure and this will create a wonderful fading effect.

Next, take your Rusty Hinge ink and add touches of this color to the top in the same fashion you did the other ink, this will create a stunning multi-color look as the colors blend together.

Then take your piece of "Heart Strings" paper and cut two pieces: one will be 5.5" x 2" and the second piece will be 3" x 2.5". Then cut a piece from your "script" paper that measures 5" x 1.5" and distress using your ink blending tool and "Wild Honey ink.

On the strip of Heart strings paper lay three of your vintage stamps that you cut out from your collage sheet then lay your script paper on top of the heartstrings paper in the center (you want the stamps to hang out past the edge. Then adhere to the top of the card base in the center.

Next take your picture of the knight and lady fom the "Knights in Shining Armor" collage sheet and layer it on the small piece of Heart stings paper and layer onto the card front about an inch from the bottom.

Then cut out the roses and place above and below your picture. Now tale your 1yd piece of ribbon and tie into bow with long tails and adhere to the top of the card using a small piece of redline tape (I use redline tape because if you are mailing this card it will not come off).

And last using glue dots lift sections of the tails then glue it to card lift again and glue another section, this will create a wonderful effect of the ribbon floating down the card front.

Now you are ready to give it to your true love!

A Little About Me:

My name is Leanne Seed and I am a paper attict, lol. I love paper crafting and being creative and most of all I love sharing my knowledge with others...hence why I teach card making and altered art. I live in Katy, Texas with my two puppies, Maggie and Riely. Please feel free to visit my blog Fripperies and Butterflies.