Love is in the Cards
by Pam Phelps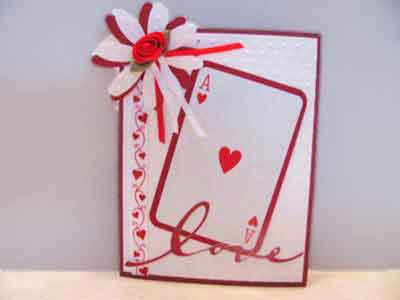 Love is in the Cards
I made it for my husband.

Materials:

Beyond Birthdays Cricut Cartridge
Heart ribbon
Tim Holts flower maker
Corner cutter
Bazzill red and white paper.
Sizzix Polka Dots embossing pocket
BigKicks machine

Process:

I used a pre-cut red Bazzill card. I cut a white top that I ran through the Sizzix Polka Dot embossing pocket to get my pattern. Then I ran a piece of Heart ribbon down the side. I took an old box of cards and border the Ace of hearts so that it would pop on the card. I placed the word Love at the bottom. I made a rosette flower with Tim Holts cutter. Placed a Red ribbon rose on top with red and white ribbon streamers.

About Me:

I am new at doing these challenges but truly love what I am creating. I have been married for 30 years and have two grown sons. I work full time for the local school district as a Librarian for the past 17 years.

You can check out my other works at Scrappin' Fab Pam!