Lace-y V-day Card
by Mai Garcia
(Manila, Philippines)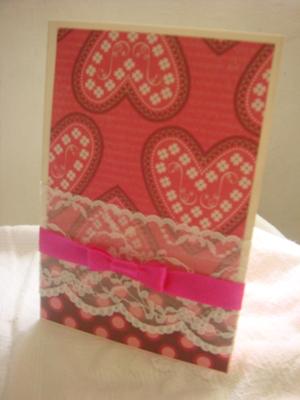 Lace-y V-day Card


Materials:



white card stock for base (8.5in x 6.5in)


hearts-themed double-sided patterned paper (from Making Memories)


white lace (5in)


pink ribbon (9 in)


glue, scissors


Steps:


Score your cardstock in half to make a 4.25in x 6.5in card.


Cut the hearts pattern side of the paper 4in x 4.5 in. Adhere to the top part of the card, leaving a small white space from the base to serve as border.


Cut the polka dots pattern side of the paper 2.25in x 4.5in. Adhere to the lower part of the card.


Add the lace over the papers, particularly hiding where the two papers overlap.


Make a bow out of your 9in ribbon. Make sure that the ribbon will be in the center (I used my Ultimate Crafter's Companion to help tie the ribbon).


As a last step, adhere the ribbon over the lace.


More projects on my blog,
Publicly Private
.