Joined at the Heart
by Dottie Seubert
(Pinellas Park, Florida USA)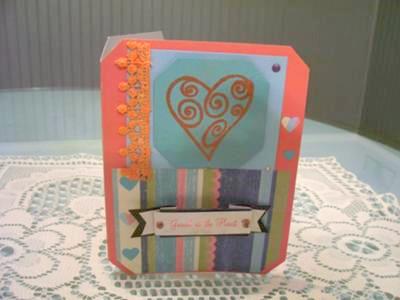 Joined at the Heart
Valentine Card Idea
About this card:
I made this card for a friend that ordered it for her hubby, she told me the colors she wanted and it turned out just the way she wanted it. She wrote a special saying inside for her hubby for their 20th Anniversary.
Materials:


craft paper from my stash


Martha Stewart Heart Punch (Small)


liquid pearl


Joined at the Heart Banner by making memories


perfect pearls


perfect medium


small brads


Boutique Fleur lace border (Peach)


Heart stamp


Assembly:


This is a very simple card to make. Just take you craft paper and cut it to 4 1/2 " x 4".



Then take your papers and cut and stack them.



Take your printed paper and glue it 1/2 way on the card then use a solid paper. I used brads to adhere it.



Then I cut one more piece of card stock and stamped it with a heart using mt perfect medium and perfect pearls.



I dusted the heart and I added a lace border to the left side of the card and a banner to the bottom center (joined at the heart).



Using my Mavy punch I added my little hearts.



Lastly I added some liquid pearls to my card.


I hope you all enjoy this card and would love for you to come visit my blog,
Something Crafty by Dottie
.
Return to In the Mood for Love: Romance Cards Contest 2012.