I Love You Card
by Dottie Seubert
(Florida )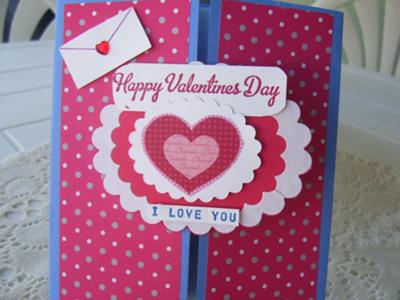 Homemade I Love You Card
I made this card for my Wonderful Hubby.

Products I used:

I used my "spellbinder classic Scalloped Ovals Small" die cut. I also used open stock paper from Michael's. My card stock is from Stampin' Up!

How I made my card:

I glued my polka dotted paper on to the blue card stock. I used my pop ups on my die cuts and hand cut an envelope and put a crystal red heart on the center of the envelope. I cut my center heart and glued it on the die cut(spellbinder classic Scalloped Ovals). I then took and stamped Happy Valentines day and I love you on white card stock and also using my pop dot adhered them to the card. I also put a special message on the inside of my card.This is the first time I made this style card but I enjoyed making it.