I Love My Wise Guy
Handmade Card
by Shellye McDaniel
(Texas)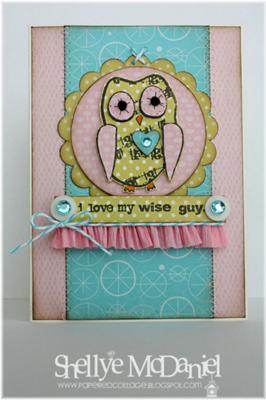 I Love My Wise Guy
Handmade Card by Shellye
Tools:



Paper Trimmer


Sewing Machine


3" Scalloped Round Punch by Stampin' Up


2" Circle Punch by Marvy Uchida


Small Heart Punch


Foam Dots


Adhesive


Fabric Glue


Fine Point Scissors


Embroidery Needle


Orange Zig Marker


Supplies:


Wise Guy Ippity Stamp (Unity)


4"W x 5.5"H Card


Patterned papers by K&CO "Lions Sleeps


Staz-On Black Ink Pad


Walnut ink pad


Clear Mount Block


2 small black pom poms


3 Blue Rhinestones (1 small, 2 medium)


2 White buttons


Blue/White Baker's Twine


Pink crepe paper ruffle (theredrobin.etsy.com)


Assembly:


Trim pink patterned paper (will be called 'paper' throughout) to within 1/16" of card's margin, all sides; ink around edges with walnut ink pad.


Cut blue paper to 2.75"W x 5.5"H; ink around edges with walnut ink pad. Center onto pink paper and machine stitch down both sides.


Punch 3" scalloped circle from green paper; ink around edges with walnut ink pad.


Punch 2" circle from pink paper; apply foam dots to back, center and attach to green circle.


Stamp owl image with Staz-On black ink onto green and pink papers. Using fine point scissors, carefully cut out owl motif from green paper.


Carefully cut eyes and wings from pink paper.


Using foam dots, attach pink eyes and wings to green owl. Apply pom poms to center of eyes with fabric glue.


Using orange Zig Marker, color in beak and feet.


Attach foam dots to back of green owl motif, center and attach to pink circle.


Adhere completed scalloped circle to center of blue paper (about 1/2" from the top.


Using an embroidery needle and baker's twine, stitch a large X over the top of the scallop.


Next, stamp sentiment onto green paper with Staz-On ink. With paper trimmer, trim to 3"W x 1/2"H; ink around edges with walnut ink.


Attach buttons to each end with foam dot and add medium blue rhinestone to the center of each.


Cut a 3.25" strip of pink crepe paper ruffle and glue to the back of the sentiment. Wrap baker's twine around the bottom of the sentiment and tie into a bow at left side. Attach completed sentiment to the bottom of the scalloped circle with foam dots.


Finally, punch small heart from blue paper; ink with walnut ink and attach to breast of owl with foam dot. Add small blue rhinestone to the center of the heart.


About me:
I love making cards! I design for a couple of manufacturers and a kit club.
You can see more of my works at
Papered Cottage
.