Homemade Birthday Cards
Looking for fun ideas to make homemade birthday cards? On this page, DT Member Heidi will guide you through an easy process to make a birthday card that says "FUN" like nothing else!


---
Cupcake Happy Birthday Card
By Heidi Wunderlich
---
Making homemade birthday cards is a perfect way to make the occasion a notch more special! So for today, I'll be sharing with you a tutorial on how to make this fun birthday card I crafted in the hopes that it will inspire you to make one yourself.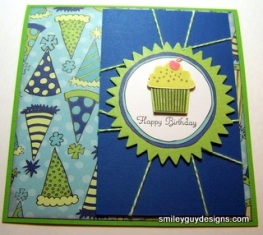 Cupcake Happy Birthday Card
List of materials used:
Green cardstock from 'Tropicals' collection by AC Cardstock (American Crafts)
'Huckleberry Pie' cardstock by Bazzill Basics Paper
Patterned paper 'Butterfield Drive' from Surprise collection by Scenic Route
Die Cut from Surprise collection by Scenic Route
Memento Dew Drop 'Pear Tart', 'Tuxedo Black', 'Lady Bug', 'Rich Cocoa' ink by Tsukineko
Christmas Assortment collection of Doodle Twine by Doodlebug Designs, Inc.
Create A Cupcake stamp set by Stampin' Up!
Create A Cupcake x-large Build a Punch
Stamp-a-ma-jig by Inkadinkadoo
Foam dimensionals by Stampin' Up!
ATG adhesive gun by Scotch
Instructions:
Gather all supplies needed for the card.






Cut green cardstock to 6"x12" and score/fold at 6".
Cut patterned paper to 5 ¾' x 5 ¾", ink the edges with brown ink and attach to card base.
Cut blue cardstock 3 ½" x 5 ½".
Stamp cupcake wrapper in black ink, frosting in green ink and cherry in red ink; punch out with Build A Cupcake punch.






Following instructions for the stamp-a-ma-jig, stamp sprinkles on frosting with brown ink and sentiment with black ink. Attach to the die cut with foam dimensionals.






Wrap twine around the blue cardstock and secure on the back with tape, adhere to card front as shown.
Attach die cut over the twine on the blue cardstock.






Complete the inside of the card by stamping sentiment on scrap white cardstock, using scraps from front of card and using an arrow die cut, assemble as shown.






That's pretty much it! Of course, you can doll up your own birthday cards any way you want and with any materials you fancy. :) And here we have our card again, all finished and ready for gifting!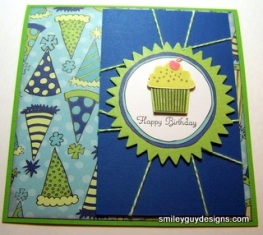 Do check out our main birthday cards page for more ideas on
homemade birthday cards
. Thanks for joining me today!



More Homemade Birthday Cards

Let's Make Greeting Cards Homepage