HAPPY VALENTINE'S DAY
by Kathleen B. Hernandez
(Manila, PHILIPPINES)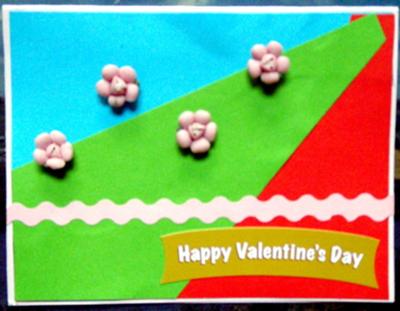 Happy Valentine's Day Handmade Card


INTRODUCTION:

I chose to make use of left-over scraps in making this Valentine's Day card. Sometimes we feel that Valentine's Day has become too commercialized in ways that make some people shy away from celebrating the said occasion. Thus, for my card entry, I decided to create a Valentine card out of scraps. It's a way of economizing. But it's me saying, "Everyone should be able to celebrate Valentine's Day may it be in their own simple but heartwarming way."




SUPPLIES:



Cardstock: Star Paper Corp.


Multi-purpose Papers: Star PaperCorp.


Flowers: All About Scrapbooking


Sentiment Sticker: Nikki Sivils, Scrapbooker


TOOLS:


Paper Shapers: Provo Craft


Glue Shot: Stanley


INSTRUCTIONS:


Adhere geometrically shaped scraps of multi-purpose papers on your cardstock. I chose (3) colors for my card.



Cut a piece of cardstock using your wave Paper Shapers making it a border strip. Adhere this strip of paper horizontally on your card.



Adhere flowers using hot glue above the border strip. Make sure these flowers are scattered on the top portion of your Valentine card.



Position your sentiment sticker on the lower right portion of your card.


You can find me at my blog,
Creo by Lady Katutz
. Do drop by and visit. =)
Hugs,
Kath