Hang-on-to-my-Love Card
by Mai Garcia
(Manila, Philippines)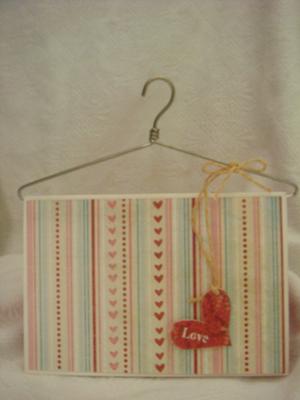 Hang-on-to-my-Love Card
Materials:


a small, metal hanger (I got from an old stationery set of mine)


white card stock (8.5in x 6.25 in)


patterned paper (4in x 6in)


brown paper cord


chipboard (heart)


glue


scissors


Steps:


Score the white card stock in half to make a 4.25in x 6.25 card.


Put the hanger inside and secure it with transparent tape.


Adhere the patterned paper onto the card stock.


The brown paper cord should resemble a rope. Tie one end on the heart chip board. Tie the other end on the hanger, adjusting it to your desired height. Make a bow with the paper cord to finish.


This is not your regular greeting card that you can find in stores. And obviously, the very inspiration for this card is the cute hanger I found in my box of old stuff. :) In keeping with the "hanger" theme, sentiment inside the card can go something like: You can hang on to my love. :)
This card is not something you're supposed to keep - it's something you can hang!
More projects on my blog,
Publicly Private
.
Return to In the Mood for Love: Romance Cards Contest 2012.