For My Love
A Handmade Valentines Card
by Pam Phelps
(Scio, Ore)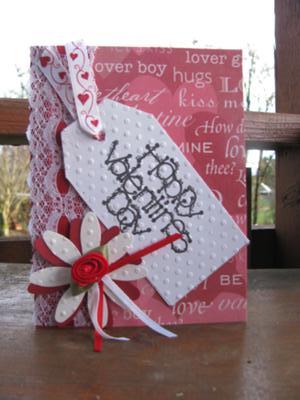 For My Love
A Handmade Valentines Card
I made this car for my husband.

Materials used:



Valentine paper.


Red and White lace


Tim Holtz dies


Red Rosetter Flower


White card stock for tag


Ashlyn's Alphabet Cartridge


Sizzix Dots embossing folder.


Happy My Valentine stamp


How I made it:
I used a standard 4a card. Cut the valentine paper to fit. Ran the Red and White lace down the left side of the card. Cut the tag and stamped with my "Happy My Valentine" stamp and flowers out and put then through the small dots embossing folder. I used a small piece of Valentine ribbon through the tag. I love this card.
About me:
I have been married for 30 years and have done some kind of craft through out those years. I have always made homemade cards, but never published any of them until now.
I work full time for our local school district as the media asst. I have two boys who are married to wonderful women. Still waiting on grandkids though :) I hope you enjoy my card.