Fathers Day Greeting Cards
Best Dad
One of our Fathers Day greeting cards is this easy card that you can whip up in just 15 minutes (maybe even less)!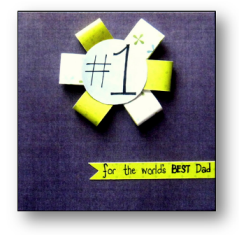 For this Fathers Day greeting card, we'll need the following:
Materials
- 1 pc 5x10 inch cardstock, folded at the center to form a 5x5 inch card
- 6 or 8 pcs paper strips in two patterns or colors, around 0.5x4 inches each. A double-sided paper will be great for this since colors will complement each other.
- 1 pc circle cutout for the ribbon's center
- double-sided adhesive tape
- glue gun and clear glue stick

Instructions
- Using double-sided tape, adhere the ends of each paper strip together. Since you will be using two patterns or colors for this ribbon, make sure that you have each pattern or color in equal number. For example, if you have three strips of one color, you should also have three strips of the other color.
- Using hot glue, form the folded strips into a ribbon, alternating paper patterns or colors.
- On your circle cutout, write "#1" or "No.1" using a pen or marker of your choice. You can also choose to print this if you're not keen on writing it yourself. I took the liberty of making you a printable!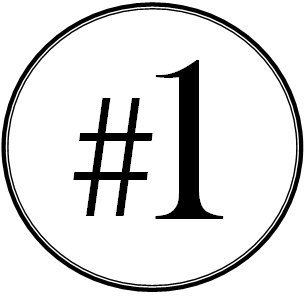 Right click on the image, click "Save image as", choose which folder you want it to be saved and save to your computer. To resize the image, you can insert it in a new Microsoft Word document and resize as desired.

- Glue the circle cutout to the center of the ribbon. You can use either double-sided tape or hot glue, whichever you're comfortable with.

- Add a sentiment. This one's optional. I handwrote "for the world's BEST Dad" for this one. I know my handwriting is not much to be proud of *LOL* but handwritten sentiments kind of make a card more personalized for me. But of course, if you don't want anything handwritten, here's another freebie for you to print!

Same process, folks: right click, save as, choose folder and save.
- Add in some fathers day greetings on the inside and you're done!
Don't be afraid to add in a few touches of your own. I'd love to see what you come up with too! Please email me if you want to share it.


Contact Me
If you have any questions about my fathers day greeting cards or any of my other projects, or if you simply want to say hello (I love hellos!), please contact me through this form. I'll get back to you as soon as I can which is usually within 24 hours unless I'm out of town..


Free Newsletter
We'll be adding more ideas for fathers day greeting cards and other themes regularly so if you haven't already, please subscribe to our free newsletter so we can let you in on what's new. As a thank you for your support, we'll be sending you a download link to a gorgeous digital scrapbook paper pack that you can use for your cards and crafting projects! :)

What's next?
Here are some other pages we have that you might be interested in. Or you can also choose any of the buttons on the left navigation bar for more greeting card ideas!
Got your card but can't figure out what to say? We've got a collection of Fathers Day Greetings you can check out. One is sure to be perfect for your card. :)


FREE Printable Fathers Day Cards
In a rush? You're in luck because we have free printable Fathers Day cards that are perfect for last-minute solutions. Pair it with a message from our collection of Fathers Day Greetings and you're good to go! Download one or download them all! :)


Go back from Fathers Day Greeting Cards
to Let's Make Greeting Cards Homepage