Fathers Day Card Ideas
Looking for Fathers Day Card ideas? Our DT Member Kathleen will share with you one of her gorgeous cards, this one designed to celebrate that one special man: our dads (and hubbies too!).


---
A Fathers Day Card to Make
By Kathleen Hernandez
---

Wouldn't it be sweet to hear that you're someone's #1? Husbands and wives do from their own spouses on Valentines and Anniversaries; Moms do from their kids every Mother's Day... What more of fathers on Father's Day? This is the inspiration in the creation of one of my Fathers Day card ideas, the tutorial of which I'm sharing here with everyone.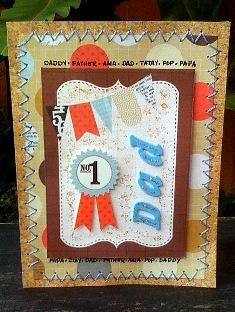 A Fathers Day Card to Make
SUPPLIES:
Adhesives
White Cardstock
Pattern Papers (Echo Park's "Note to Self" Collection kit)
Foam Alphabet Stickers (Filstar Distributors Corp.)
Tag Cut-out (Echo Park's "Note to Self" Collection kit)
No. 1 Sticker (Echo Park's "Note to Self" Collection kit)
Thread in Baby Blue color
Pen
Glitter Glue
TOOLS:
Craft Mat
Craft Scissors
Needle
Craft Pick (Tim Holtz' Tonic Studios)
INSTRUCTIONS:
Prepare a 4.25x5.75 cardstock trimmed to size. Or cut in half an 8.5x11 white cardstock.






Trim your pattern paper in the same size of your front cardbase. Cover the front of your card with the pattern paper.






Trim a printed pattern paper in a size slightly smaller than your white cardbase. Adhere your trimmed pattern paper on the center of your card.






Prepare your needle, thread and Craft Pick. Using zigzag stitch, stitch around the edges of your smaller pattern paper with your baby blue thread.






Cut your tag from the paper pack and pop up on center of your card.






Position your No. 1 medal sticker on the left side of your popped up tag. Prepare your foam alphabet stickers in color that accentuate or compliments your card.






Spell "Dad" and position these foam letter stickers on the right side of your popped up tag.






Write your sentiments in small printed letters just above and also below your tag. (I chose to write the different names a father can be called or should I say the variants of the word "Father" . . . Daddy, Father, Dad, Pop, Papa & in my national language . . . Ama, Tatay & Itay.)






Spread gold glitter glue all around the vacant space in your tag. Meanwhile, spread silver glitter glue on your foam letter stickers. (Silver to complement your blue colored foam letter stickers & gold to match your predominantly brown colored card creation). That finishes off your card project.










You now have a completed Father's Day card with an overall rustic feel to it. I hope you enjoyed reading my prepared tutorial and be inspired enough to create a card for your Dad also. Be sure to check out other
Fathers Day Card Ideas
we have for more inspiration! We'll be adding more soon!
Happy Father's Day!!

More Fathers Day Card Ideas

Let's Make Greeting Cards Homepage