Everyday Card for My Friend
by Susan Smith (Sassy)
(United Kingdom)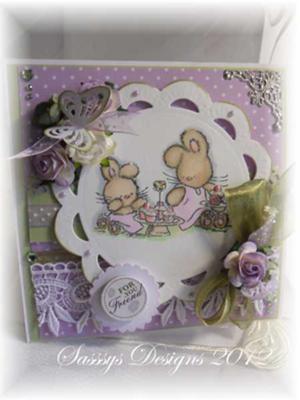 Everyday Card for My Friend
I colored these cute bears with flex markers, a pretty image.


I matted it onto a nestie circle, added lilac spot backing papers and used the reverse for alternating the color scheme.
Backed it on green card stock, trimmed to fit.
I added sentiment and a pretty green bow and also some beautiful lace.
I also added a tiny remnant of spot ribbon, added fowers and a butterfly edged with green ink pad and tiny pearls to compliment.
I also decorated the inside with leftover scraps.