Everyday Card for My Friend
by Susan Smith (Sassy)
(United Kingdom)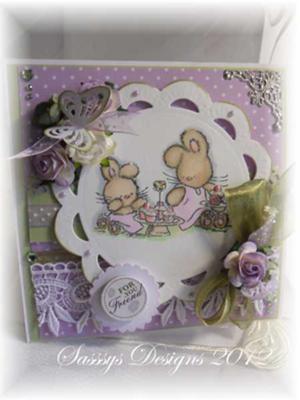 Everyday Card for My Friend
I colored these cute bears with flex markers, a pretty image.

I matted it onto a nestie circle, added lilac spot backing papers and used the reverse for alternating the color scheme.

Backed it on green card stock, trimmed to fit.

I added sentiment and a pretty green bow and also some beautiful lace.

I also added a tiny remnant of spot ribbon, added fowers and a butterfly edged with green ink pad and tiny pearls to compliment.

I also decorated the inside with leftover scraps.
Join in and write your own page! It's easy to do. How? Simply click here to return to Handmade Card Ideas from Fellow Card-Makers.