Elegant Black & White
Homemade Love Card
by Mandi H.
(Michigan)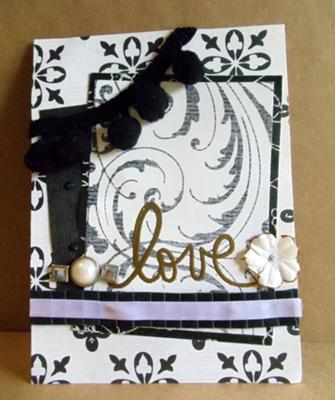 Elegant Black & White
Homemade Love Card
For whom did you make it?
I made this for nobody special. I like to have cards on hand.

What tools and supplies did you use?



Black and white cardstock (the Paper Studios)


Pattern papers (Scrap Works)


Bling and pearl brads (My Mind's Eye)


Silver Stickles


Paper flower


Pom-pom trim


White ribbon


Love stamp (Autumn Leaves)


Gold Embossing powder (Stampablities)


Heat gun


Gold Marker (American Crafts)


How did you make it?


Make card from white cardstock.


Add cardstock, pattern papers, and trim.


Pleat a black paper strip and add ribbon down the center.


A the pleated strip and brads.


Heat emboss sentiment.


Color the tips of flower with a gold marker.


Stickle the center and adhere to cards.


Can you tell us more about you?
I am an avid paper crafter. I have been doing this all my life. I first started doing cards but now I also scrapbook.
Where can we see more of your works?
You can find more of my projects at my blog,
The Kraze of MJ
.