Easy-to-Make Thank You Card
by Mai Garcia
(Manila, Philippines)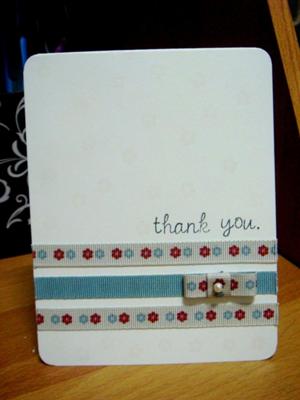 Easy-to-Make Thank You Card
I made this thank you card primarily because I wanted to use my small stash of ribbons. :)


I used a designer ribbon from WRMK for the three lines and for the small bow. I adhered a pearl on top of the bow for a more "classy" feel.
I stamped "thank you" in black using Studio G alphabet stamps. It's not exactly visible but I also stamped small flowers (very close to the shape of the flowers on the ribbon) using Versa Mark (watermark) pad.
I chomped the four corners as well.
Because of its "formal" effect, I can imagine giving this to my boss or my professor in school. :)
- - - - - -
Hi, Mai! Thanks for sharing your lovely thank you card ideas! :) This is a very elegant card and I so love that it's beginner-friendly! I agree, its professional look makes it very appropriate for workmates and superiors indeed. Hmm.. I think I'm going to make one like this myself. ;)
If you loved this card idea from Mai, be sure to visit Mai's blog,
Publicly Private
, for more of her gorgeous projects which include lots of paper crafting. ;) Enjoy!