Easy Birthday Cards for Beginners
by Anne-Marie
(Manchester, United Kingdom)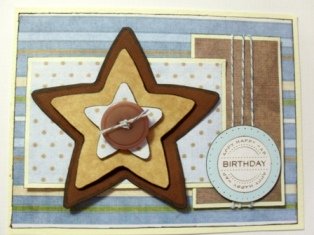 Birthday Card
Anne-Marie shares two pretty cards she made that would be just perfect for beginners like you! She has a very important tip you wouldn't want to miss too! :) Take it away, Anne-Marie!



I thought that a beginner might not have too many stamps so none have been used.......

I cut three star shapes (the middle one is from the inside of a cereal box 'cos I liked the colour..lol) ...inked the edges, added a button with baker's twine.... all up on pop dots... The circle sentiment is from Craftwork Cards... stuck it on a blue circle and pricked holes around the edge.... all the DPs are from Nitwits:In the Meadow.... I got the original pack as a freebie, and liked it so much I actually bought some.... yeah, me!...buyin' somethin'....Ha!

I added more baker's twine to one of the layers... just for texture and interest... and left it at that!

Once you have the basic layout of the card, it's very easy to change the papers, and embellies, and make another card that looks very different........and to prove the point, here's a girlie version of the above handmade birthday card...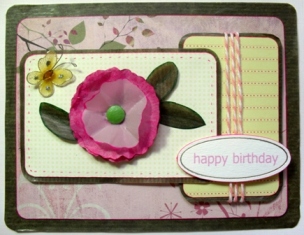 Hope you enjoy having a go at these easy-peasy cards!

You can find me on my blog, Little-Applefalls. :)


Hugs from Anne-Marie