Easy and Quick
Valentine Shaker Card
by Melissa Bove
(Toms River, NJ USA)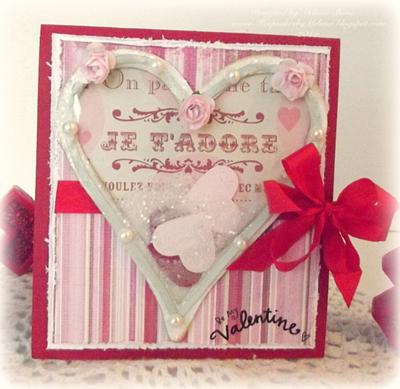 Be My Valentine
Homemade Valentines Card
~ I made it to give to my husband.

Materials you will need:



Ruby Red, Light Pink, White Card stock


Patterned Paper: My Mind's Eye (Quite Smitten) and Making Memories Je t'adore (French Words)


Maya Road Large Chipboard Heart


Martha Stewart Pink Mini Roses


Martha Stewart Small Heart Punch


Melissa Frances Rub-On Transfer


Hero Arts White Pearls


Red Seam Binding Ribbon


Light Green Satin Ribbon


Chunky Style Glitter


Small Piece of Acrylic or clear plastic packaging


White Acrylic Paint


Paper Distresser Tool


Hot Glue Gun


How to make this card:


Mat a piece of white cardstock onto a red card base.


Paint the large chipboard heart with white paint and when dry, add a coating of Aileen's glue and then some chunky glitter.


When dry, adhere a piece of patterned paper onto the back of the chipboard heart.


Then adhere a piece of heart-shaped acrylic (or you can use a piece of clear packaging) onto the front of the chipboard heart using a hot glue gun. Only glue the bottom and sides at first.


Add punched hearts and glitter inside of heart and then finish gluing the top of heart with hot glue.


To cover the glue, add ribbon around the edge of heart as well as mini roses and pearls.


Add ribbon and heart onto a piece of patterned paper and then adhere to card base.


Finish with a rub-on transfer along the bottom of the card.


To make the triple loop bow, use a mini bow-dabra.


A Little About Me:
My name is Melissa Bove. I live in Southern NJ with my husband and 2 sons. I love all kinds of paper crafting but especially love to do cardmaking and altered projects.
My Blog:
Keepsakes by Melissa