Easter Basket
by Dottie Seubert
(Florida "USA")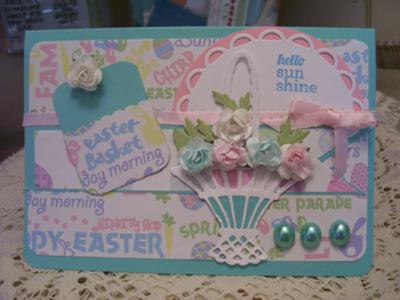 Easter Basket
I put my card together using the following products.

I used STAMPIN' UP! card stock for the main body of my card in teal. I then used a open stock paper at Michael's with a Easter design.

I used the basket by Marianne design @ www.atjoansgardens.com

I used some butterflies in pink and teal and used some liquid pearl. I also used some roses by shabby Chic paper roses and added some green leave using my die cut by Joan's Garden. I added a baby pink satin ribbon and bow then some teal egg shaped gems.


I hope you liked this card as much as I enjoyed creating it. Thank You for visiting again and do visit again soon. I love reading your comments, Please take a few seconds and leave a comment.
I would love to have you has one of my followers as well. Again thank you for stopping by.


Join in and write your own page! It's easy to do. How? Simply click here to return to Handmade Card Ideas from Fellow Card-Makers.