Cupids Love Card
by Leanne Seed
(Katy Texas)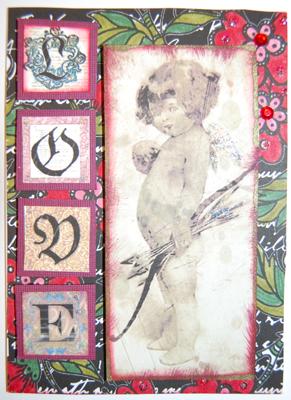 Cupids Love Card
Homemade Valentine Card
This card was made as a class sample. However, I made another one and gave it to my best friend.

I used the following products to create this card



Gecko Galz Vintage Valentines collage set


red & Gold radiant rain ink


Gecko Galz "Its all black and White" papers


Copic Markers


Red bling


Maroon cardstock


For this card I started with a white card and then cut out a card topper out of the black and white paper.
Next I took my copic pens and colored in the background paper.
Then I cut out the letters that spell out "love" and placed each letter on a maroon card stock mat. Using pop dots I placed them down the left side of the card .
Next I took the little cupid picture and using my red & green radiant rain ink dauber I distressed the edges.
I placed the image on the right side of the card and finished off with scatterings of red bling.