Clean and Simple Valentine
by Heather Jewett
(Rome, PA, USA)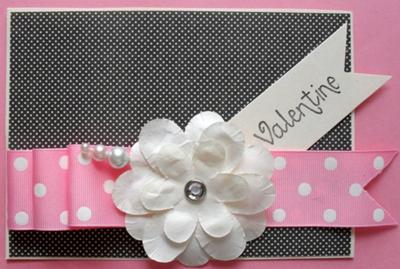 Clean and Simple
Homemade Valentine Card
This will be going to my dearest friend (a breast cancer survivor). That's why i chose the light pink ribbon.

Materials:

~ Papers from DCWV's The Black Currant Stack
~ Ribbon
~ Stick pin
~ Floral Embellishment
~ Crystal brad
~ adhesive
~ paper cutter

Procedure:

The cream paper is cut to 4 7/8 x 6 7/8.
The polka dot is at 4 3/4 x 6 3/4.
I used glue dots for the ribbon, holds better than glue.
Added the Flower with pop up dots (or you could use mounting tape).
Stamped the word Valentine on the same cream paper as used for the bottom layer.
Added the stick pin.

FAST, EASY,and Sooo pretty!