Birthday Card
by Priyanka Mandal
(Kolkata,West Bengal, India)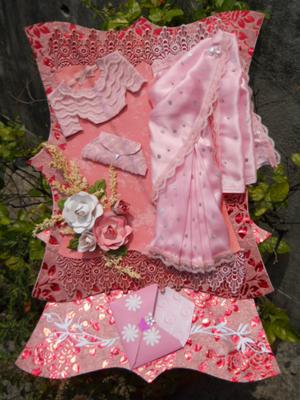 sari for mama
I made it for my mama.


I use lots of fabric, laces my hand made flower etc.
At first I made a paper skirt over this I wrap the sari in a particular process means how people wear a sari in that process I wrap the fabric on my paper skirt.
I am addicted to art and craft since I was 4 years old and since then I make cards.
I just want to say art is my heart
-------------
Thank you, Priyanka, for this beautiful card idea! :) Your mom is indeed very lucky to have you and I'm sure she was absolutely thrilled to receive such a beautiful handmade birthday card!
I love how you made the cute little blouse and purse and pink sari! :) Excellent idea to personalize a birthday card! And are those really handmade flowers? They're gorgeous!! :)
For more of Priyanka's beautiful creations (and she has a lot), do visit her blog,
My Hobby is My Heaven
. She makes almost everything by hand including flowers and embellishments! :) Now, that's pure talent.