Bee Mine
by Kerry
(Navarre, FL United States)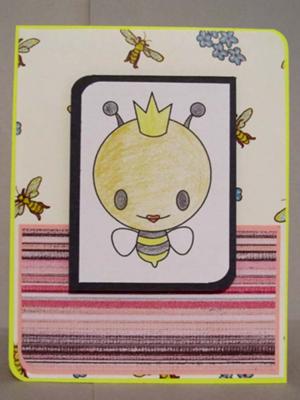 Finished Front
Materials:

3 Colors of Cardstock 8 1/2 X 11 (yellow, grey and Pink) 2 Patterned Papers 12 X 12 or small scraps (Stripes and Bees)

Supplies:

Tape/Glue Runner, Personal Paper Cutter, Pop Dots, Colored Pencils, Image (Digital or Rubber Stamped- finished size will be 3 X 2 1/2), Corner punch rounder..

Instructions:

1. Fold yellow Cardstock (or whatever color you are using) in half and cut at the 4 1/4, making 2 5 1/2 X 4 1/4 pieces (put one away for future use) .. Round either corner (top and bottom)

2. Take one of your Patterned papers and cut it to a 5 3/8 X 4 1/8 piece.. Round corners to match the yellow cardstock and tape/Glue to yellow cardstock... This is your card Base...

3. Cut Second cardstock piece (pink) (or whichever color you are using) to a 4 X 2 1/4.. round either corner to match the yellow base cardstock...

4. Take Second Patterned Paper and cut to a 3 7/8 X 2 1/8 ... round corner to match the pink Cardstock.. tape/glue to pink cardstock ..

5. Tape/glue pink cardstock to Card Base...

6. Print/Stamp Image you are using and color..

7. Cut Image to a 3 X 2 1/2 .. round either corner top/bottom opposite to the card base..

8. Cut Third Cardstock (Grey or whichever color you have chosen) to a 3 1/4 X 2 1/2 .. round corners to match the image ... tape/Glue Image to this Piece...

9. Place Image on Card Center using Pop Dots..

10. Embellish front and finish the inside as desired..

11. Admire your work.. I am sure you have done a great job..

You can see more of my cards on my Blog - Anne's Card Challenges.