Because I Love You
Valentine Card Idea
by Dottie Seubert
(Pinellas Park, Florida USA)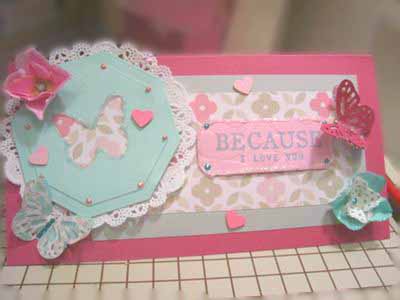 Because I Love You
Valentine Card Idea
About this Valentine card idea:

I made this Valentine card for another friend for his friend. I wanted to make it special as she is to him. I hope you all like it. I also put this in another challenge tonight.

To make this card these are the things I needed.



MS Classic Butterfly punch

MS Monarch Butterfly Punch

MS Small Heart Punch

Recollections Garden Floral Paper

Stampin' UP! card stock ~ Aqua, Pink, Rose & Gray.

pop dots

glue gun

liquid pearls (pink & teal)

brads

Calypso Floral Embellishments

Spellbinder Large Octagon die

Wilton White doily

"Because I love you" rubber stamp

Assembly:


I chose to use the Rose colored card stock for the main body of the card. I then over-layered the gray card stock then the floral paper.


I cut 2 octagon shapes (a large and a medium), and using my butterfly punch I punched the medium Octagon and glued the floral paper between the two.


I then glued it to a white doily and with pop dots placed it on my card on the left side. I
added some butterflies and flowers and a few little hearts around the card.


I used my liquid pears on my octagon and on my small pink label and stamped it with MS Aqua Ink.


I put my glitter glue along the edges of my flowers and around the label.


I hope you all enjoy my Valentine card idea as much as I did creating it. I love your comments. Come visit my blog and maybe even become a follower.
~ God Bless ~
Hugs,
Dottie
Something Crafty by Dottie