Any Day Card
by Mai Garcia
(Manila)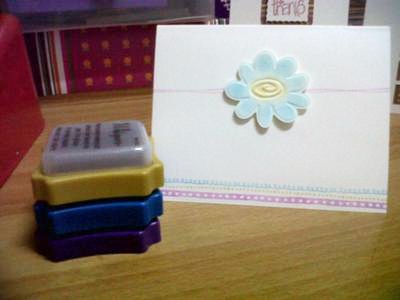 Any Day Card
For this card, I used three colors which I love - Purple, Blue, and Yellow.


I used border stamps from Kelly Panacci. I made a flower using a Sizzix embosslit, got a sponge dauber and inked over it using the same colors. I adhered the flower using foam tapes. :)
I always stamp something at the back of my cards - this time using the "Handmade By" stamp from The Stamps of Life. :)
- - - - - -
This is lovely, Mai! :) Thank you for sharing this card idea. I've always loved any-day cards and for some reason, I appreciate them more than occasion cards because they usually come as a surprise and they show that the sender thought of you even when it's not your birthday. How sweet! :)
If you loved this card idea from Mai, be sure to visit Mai's blog,
Publicly Private
, for more of her gorgeous projects. She makes handmade wedding invites too, by the way. ;) Enjoy!